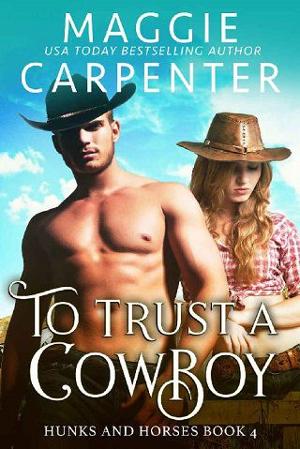 She's a prisoner to the pain of her past. Can the love of a take-charge cowboy set her free?
It's been a year to the day since handsome cowboy Dylan Clark kissed blonde beauty Natalie Beaumont, and though the sparks fly whenever their paths cross in their small town, she turns down every invitation. Now thrown together at the year-end national Western Dressage Championships he's determined to learn why she constantly rejects him.
Natalie's horse, Misty Dawn, is a flashy chestnut mare with four white stockings, a white blaze, and a flaxen mane and tail. The mare's talent is equal to her beauty, and Natalie is confident she can win the Level One Championship, but to take the title she must go up against Dylan Clark, the man who made her toes curl and her heart race at the very same horse show a year before.
But when she arrives a series of mishaps almost prevents her from competing. Dylan steps in to help, and as their smoldering lust fires to life she finally surrenders to his muscled arms.
The identity of those responsible is suddenly revealed, and to Natalie's horror she learns they're after Misty Dawn. Can Dylan protect the love of his life while stopping the horse thieves? Will Natalie keep her promise to stay out of the fray as the dangerous men try to steal her precious mare?
Book Details
File Nameto-trust-a-cowboy-by-maggie-carpenter.epub
Original TitleTo Trust A Cowboy (Hunks and Horses Book 4)
Creator

Maggie Carpenter

Languageen
IdentifierMOBI-ASIN:B07KXYCMHW
Publisher

Dark Secrets Press

Date2018-12-01T16:00:00+00:00
File Size338.173 KB
Table of Content
1. Contents
2. Title Information
3. Prologue
4. Chapter One
5. Chapter Two
6. Chapter Three
7. Chapter Four
8. Chapter Five
9. Chapter Six
10. Chapter Seven
11. Chapter Eight
12. Chapter Nine
13. Chapter Ten
14. Chapter Eleven
15. Chapter Twelve
16. Chapter Thirteen
17. Chapter Fourteen
18. Chapter Fifteen
19. Chapter Sixteen
20. Chapter Seventeen
21. Chapter Eighteen
22. Chapter Nineteen
23. Chanpter Twenty
24. Chapter Twenty-One
25. Epilogue
26. HUNKS AND HORSES
27. A Word From Maggie