Sweet Seas by Scarlett Finn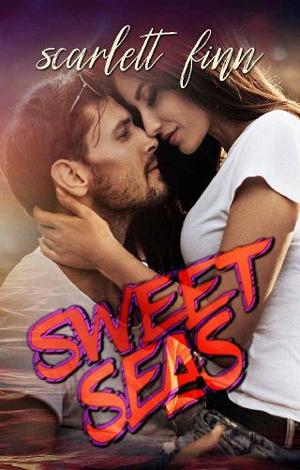 Sassi Robins needs money. Lots of money. If she can't get her hands on enough by Dario Correa's deadline, she'll be forced to walk down the aisle at his side. Damning her father for dying and leaving her with his debts won't help. She needs a job, one that pays damn well.
Captain Swain needs a cook. One who can cast off without delay and he doesn't mind paying for the privilege. The waif who shows up for the job doesn't seem like she'll last a day on the waves. But, the sweet smelling wench has a fire that draws him in, mesmerizes him, and makes him lose his mind.
Although Sassi knows she should resist the gruff, overbearing master of the vessel, it's a fight she can't win. On his ship, she's his to do with as he pleases… and his desires have a lot to do with pleasing her.
But, the fantasy can't last. Reality is waiting for her on shore and time is working against them. Sassi has to let her captain go to save his life, and fight against the clock to save her own.
File Name:sweet-seas-by-scarlett-finn.epub
Original Title:Sweet Seas
Creator:

Scarlett Finn

Language:en
Identifier:MOBI-ASIN:B07LD4RX6G
Publisher:

SFinn

Date:2018-12-19T16:00:00+00:00
File Size:387.755 KB
Table of Content
1. ONE
2. TWO
3. THREE
4. FOUR
5. FIVE
6. SIX
7. SEVEN
8. EIGHT
9. NINE
10. TEN
11. ELEVEN
12. TWELVE
13. THIRTEEN
14. FOURTEEN
15. FIFTEEN
16. SIXTEEN
17. SEVENTEEN
18. EIGHTEEN
19. NINETEEN
20. TWENTY
21. TWENTY-ONE
22. TWENTY-TWO
23. TWENTY-THREE
24. TWENTY-FOUR
25. TWENTY-FIVE
26. TWENTY-SIX
27. TWENTY-SEVEN
28. TWENTY-EIGHT
29. TWENTY-NINE
30. THIRTY
31. THIRTY-ONE
32. THIRTY-TWO