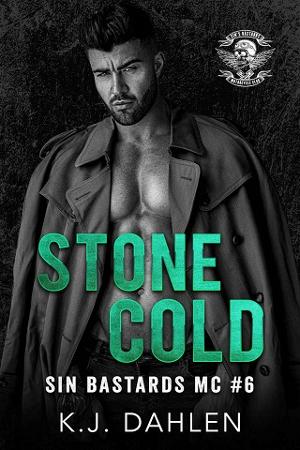 Bane is back. But he comes with more than a visit in mind…
Cricket
He came back for me a second time – Bane.
A world class assassin with an implacable hunger.
This time, he wants something of my fathers.
A pair of daggers from the time of knights and kings.
Fighting back the whispers of fear and dread in my heart, I refused.
Then, my own brother changed the rules…
The stakes are even higher when he takes me and an innocent baby hostage.
Someone will end up with the daggers.
Someone will end up dead.
I can only pray that luck will be on our side,
Only the MC can save us from our own demise.
Book Details
File Namestone-cold-by-k-j-dahlen.epub
Original TitleSTONE COLD- Sin's Book 6- TO LOAD
Creator

Dahlen, K.J.

Languageen
Identifier3140011218
Publisher

K.J. DAHLEN

Date2018-07-26
File Size688.857 KB
Table of Content
1. Table of Contents
2. Title Page
3. CREDITS
4. DEDICATION
5. Raine the Next Book
6. CHAPTER ONE
7. CHAPTER TWO
8. CHAPTER THREE
9. CHAPTER FOUR
10. CHAPTER FIVE
11. CHAPTER SIX
12. CHAPTER SEVEN
13. CHAPTER EIGHT
14. CHAPTER NINE
15. CHAPTER TEN
16. CHAPTER ELEVEN
17. CHAPTER THIRTEEN
18. UP NEXT
19. LOOK FOR
20. K.J. Dahlen