Omega's Breed by Samantha Cayto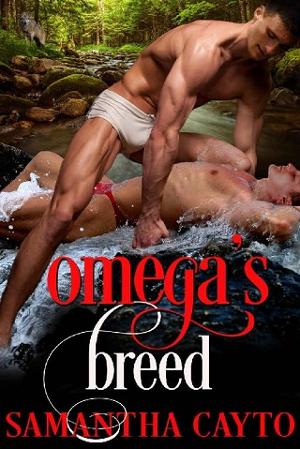 Will is a shy, young omega who came into his heat and was forced to whelp a pup too early in life. Labelled a trouble-maker by his old alpha, he and his adorable daughter, Annie, have been shunted off to the Rogue Pack. Will has only ever known fear and abuse. He's leery of this new pack treating him and Annie any better. And, with his next heat imminent, his alpha insists he accept a mate. His choices are limited, but they include the virile beta who spirited him away.
Finn never expected to end up carting a male omega and his pup back to the Rogue Pack. Having suffered a devastating loss, he's only been able to go on with his life because his new pack gives him purpose. The sweet and vulnerable omega thrust into his care is forcing him to reassess his intended future. The thought of Will and Annie belonging to another isn't something his wolf can tolerate.
Forced together by sudden circumstances, Finn and Will wrestle with their growing desire, while the secrets of their pasts threaten their future together.
Book Details
File Nameomegas-breed-by-samantha-cayto.epub
Original TitleOmega's Breed (The Rogue Pack Book 3)
Creator

Samantha Cayto

Languageen
IdentifierMOBI-ASIN:B06X3TCWPK
Publisher

Samantha Cayto

Date2017-02-10T18:30:00+00:00
File Size201.678 KB