Humbling Her Cowboy by Natalie Dean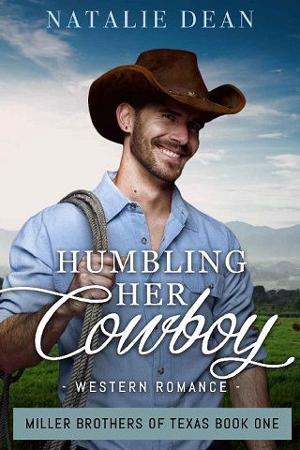 He's a rich cowboy trying to maintain his father's ranching empire. Being disadvantaged and poor has her jaded… especially toward rich people like him. Is it possible for her to shift his view of the world… and her?
The McLintoc Millers aren't quite like their cousins to the north. Solomon, the second oldest of the six sons, had never really thought of why.
As the heir of the family empire, Solomon has always been focused on the business. Growing, gaining and improving, his life was dedicated to the full-time job of making sure that they always had more. But all of that comes screeching to a halt when he runs into a vandal defacing his family's property.
Frenchie hasn't had the easiest life. On the run since she was seventeen, she went from lower class right to impoverished and hasn't really been able to get back up since. She's seen the worst of the world, the darkness that lurks in so many people, and what happens when dollar bills are worth more than a person's life.
When she meets a man who has it all, she's sure she already has him pegged. But then, little by little, he begins to contradict all the rules she learned for survival.
Is he playing the long con, or is it possible that someone like him would even care about someone like her?
File Name:humbling-her-cowboy-by-natalie-dean.epub
Original Title:Humbling Her Cowboy: Western Romance (Miller Brothers of Texas Book 1)
Creator:

Natalie Dean

Language:en
Identifier:MOBI-ASIN:B083P2P6HF
Publisher:

Kenzo Publishing

Date:2020-02-22T16:00:00+00:00
File Size:303.420 KB
Table of Content
1. Title Page
2. Copyright
3. Dedication
4. Exclusive Books By Natalie Dean
5. Contents
6. Chapter 1
7. Chapter 2
8. Chapter 3
9. Chapter 4
10. Chapter 5
11. Chapter 6
12. Chapter 7
13. Chapter 8
14. Chapter 9
15. Chapter 10
16. Chapter 11
17. Chapter 12
18. Chapter 13
19. Chapter 14
20. Chapter 15
21. Chapter 16
22. Chapter 17
23. Chapter 18
24. Chapter 19
25. Chapter 20
26. Chapter 21
27. Epilogue
28. Author's Note
29. Other books by Natalie Dean
30. If you enjoyed this story…
31. Exclusive Books By Natalie Dean
32. About Author - Natalie Dean