Gage by Susan Fisher-Davis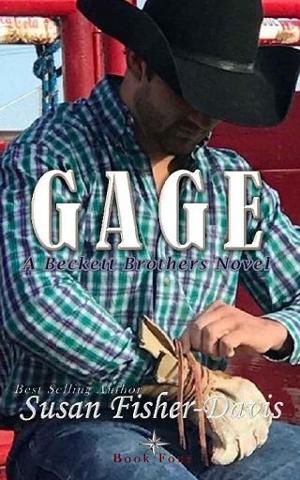 Gage Beckett has decided to retire from the rodeo circuit and he's long since given up on love after a disastrous marriage ended in divorce. But when he meets a new woman who has sparked his interest and learns she lives one town over, he wonders if his future might be open to wonderful new possibilities.
Hailey Conway knows heartbreak all too well, so when she meets a handsome, sexy, and charming rodeo star she's not willing to jump into the deep end with him right away. Gage Beckett has trouble written all over him and even though he calls her a heartbreaker, she knows it's her heart that will be left broken in a million pieces if she falls in love.
When their pasts come back to cause them both trouble, they have a choice to make—trust their instincts and each other or let the devious plans of others destroy their chance at a happily ever after.
File Name:gage-by-susan-fisher-davis.epub
Original Title:Gage: A Beckett Brothers Novel Book 4: The Beckett Brothers
Creator:

Susan Fisher-Davis

Language:en
Identifier:MOBI-ASIN:B0848RVXQ6
Publisher:

Blue Whiskey Publishing

Date:2020-02-14T00:00:00+00:00
File Size:171.423 KB
Table of Content
1. Gage
2. Susan Fisher-Davis
3. A Beckett Brothers Novel
4. Table of Contents
5. Chapter One
6. Chapter Two
7. Chapter Three
8. Chapter Four
9. Chapter Five
10. Chapter Six
11. Chapter Seven
12. Epilogue
13. **The End**