Evergreen: The Complete Series by Cassia Leo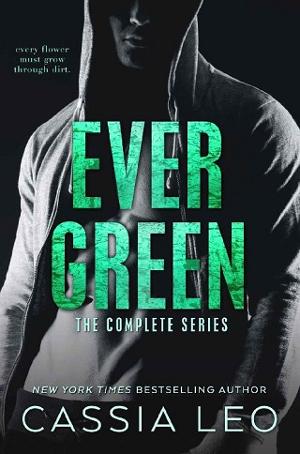 Laurel and Jack's marriage was a fairy tale.
Jack and I had everything. Then, in one brutal instant, the universe tilted on its side, discarding us into black nothingness.
Now, I have a cocky jerk for a husband. The only way we communicate anymore is in the bedroom.
With nothing left to lose, I write Jack a goodbye letter and head for Portland, where I quickly meet a neighbor who helps me find a job.
My new neighbor—hot, tattooed ex-soldier Isaac Evans—is complicated. Nevertheless, we form a fast friendship, bonding over our mutual desire to create something beautiful from the wreckage of our lives.
But despite the distance between us, Jack and I are still trying to make things work—fighting and playing dirtier than ever. And he doesn't appreciate my new friendship with Isaac. Not one damn bit.
Book Details
File Nameevergreen-the-complete-series-by-cassia-leo.epub
Original TitleEvergreen: The Complete Series (Evergreen Series)
Creator

Cassia Leo

Languageen
IdentifierMOBI-ASIN:B07CZ8KWHT
Publisher

Gloss Publishing LLC

Date2018-05-08T16:00:00+00:00
File Size1.019 MB
Table of Content
1. Title Page
2. Copyright
3. Note to Reader
4. Dedication
5. Contents
6. Dirt
7. Dirt Playlist
8. Part 1
9. Chapter 1
10. Chapter 2
11. Chapter 3
12. Chapter 4
13. Chapter 5
14. Chapter 6
15. Chapter 7
16. Chapter 8
17. Chapter 9
18. Part 2
19. Chapter 10
20. Chapter 11
21. Chapter 12
22. Chapter 13
23. Chapter 14
24. Chapter 15
25. Chapter 16
26. Chapter 17
27. Chapter 18
28. Part 3
29. Chapter 19
30. Chapter 20
31. Chapter 21
32. Chapter 22
33. Chapter 23
34. Chapter 24
35. Chapter 25
36. Chapter 26
37. Chapter 27
38. Chapter 28
39. Chapter 29
40. Seed
41. Part 1
42. Prologue
43. Chapter 1
44. Chapter 2
45. Chapter 3
46. Chapter 4
47. Chapter 5
48. Chapter 6
49. Chapter 7
50. Chapter 8
51. Part 2
52. Chapter 9
53. Chapter 10
54. Chapter 11
55. Chapter 12
56. Chapter 13
57. Chapter 14
58. Chapter 15
59. Chapter 16
60. Part 3
61. Chapter 17
62. Chapter 18
63. Chapter 19
64. Chapter 20
65. Chapter 21
66. Chapter 22
67. Bloom
68. Part 1
69. Chapter 1
70. Chapter 2
71. Chapter 3
72. Chapter 4
73. Chapter 5
74. Part 2
75. Chapter 6
76. Chapter 7
77. Chapter 8
78. Chapter 9
79. Part 3
80. Chapter 10
81. Chapter 11
82. Chapter 12
83. Epilogue
84. Bloom Bonus Scene
85. The Way We Fall
86. Prologue
87. Part 1: Denial
88. 1. Rory
89. 2. Rory
90. 3. Houston
91. 4. Rory
92. 5. Houston
93. 6. Rory
94. 7. Houston
95. 8. Rory
96. 9. Rory
97. 10. Houston
98. 11. Rory
99. 12. Houston
100. 13. Tessa
101. 14. Rory
102. 15. Houston
103. 16. Rory
104. 17. Houston
105. 18. Rory
106. Part 2: Anger
107. 19. Houston
108. 20. Houston
109. 21. Rory
110. 22. Rory
111. 23. Houston
112. 24. Rory
113. 25. Houston
114. 26. Rory
115. 27. Houston
116. 28. Rory
117. 29. Houston
118. 30. Houston
119. 31. Hallie
120. 32. Rory
121. 33. Houston
122. 34. Rory
123. Also by Cassia Leo
124. About the Author
125. Acknowledgments