Dangerous Lies by A.P. Foote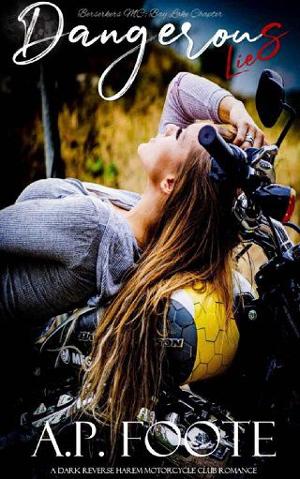 Every sin comes with a price. Mine? Getting involved in a world I have no business being part of.
They said I couldn't do it. I did. They said I'd never get out, but I did.
Growing up a bikers daughter the cards were stacked against me from the day I was born.
Sex, drugs, violence it was everything I craved, the club gave me a reason to live after my dad was murdered.
But I got out, and now eight months later I'm being dragged back in, not kicking and screaming as I should, but welcoming it.
This time? This time I'm the target in a brewing war between the club I was born into and the ones who want to destroy them.
My only hope at survival is the pack and the four men who walked into my bar and into my heart, but can I trust them?
Everything I've ever known is a lie, including my entire life. Where will it lead? I'm afraid to find out. My reality twists and every truth has a price.
I am the Enforcer. The Reaper.
Warning. Dangerous Lies is a dark reverse harem series. Contains adult language, sexual content, graphic violence, including death, and deals with sensitive issues such as unwanted physical contact, drug use, abuse and PTSD. Reader discretion advised.
Book Details
File Namedangerous-lies-by-a-p-foote.epub
Original TitleDangerous Lies (Berserkers MC: Bay Lake Chapter Book 1)
Creator

A.P. FOOTE

Languageen
IdentifierMOBI-ASIN:B07YJ27FHD
Date2019-11-06T16:00:00+00:00
File Size778.809 KB