Cosmic Lover by Stella Cassy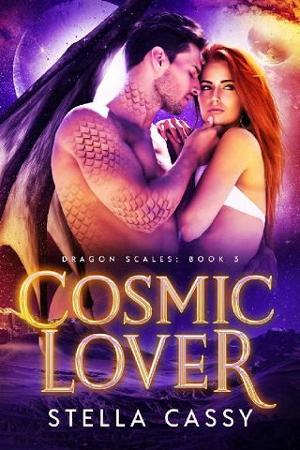 Trapped on the Pax planet, I quickly learned that I was disposable as the next slave.
Everything was going wrong until HE showed up.
Dashel, the youngest co-commander of the Hielsrane fleet. He is strong and hot but also gentle and nice. It seems he has taken a liking to me. Well I know the feeling is mutual…
But he is still inexperienced on the battlefield. And with a raging war, and everything on the line, will he really give up everything we have built just to prove he is worthy to his upper command?
Book Details
File Namecosmic-lover-by-stella-cassy.epub
Original TitleCosmic Lover: A SciFi Alien Romance (Dragon Scales Book 3)
Creator

Stella Cassy

Languageen
IdentifierMOBI-ASIN:B07S2VYC3H
Date2019-06-23T16:00:00+00:00
File Size252.056 KB
Table of Content
1. Title Page
2. Contents
3. Hello!
4. 1. Natalie
5. 2. Dashel
6. 3. Natalie
7. 4. Dashel
8. 5. Natalie
9. 6. Dashel
10. 7. Natalie
11. 8. Dashel
12. 9. Natalie
13. 10. Dashel
14. 11. Natalie
15. 12. Dashel
16. 13. Natalie
17. 14. Dashel
18. 15. Natalie
19. 16. Dashel
20. 17. Natalie
21. 18. Dashel
22. 19. Natalie
23. 20. Dashel
24. 21. Natalie
25. 22. Dashel
26. 23. Natalie
27. 24. Dashel
28. 25. Natalie
29. 26. Dashel
30. 27. Natalie
31. 28. Dashel
32. 29. Natalie
33. Epilogue
34. Glossary
35. Free Prequel!
36. Cosmic Lover