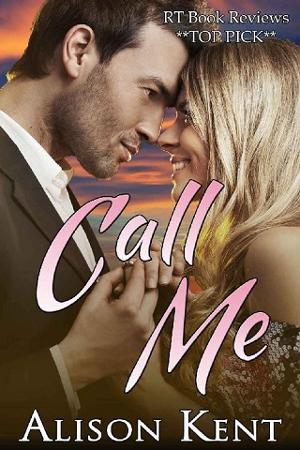 "It's up to you."
How could four words scribbled on a business card drive a normally sensible woman to be so… impulsive?
It wasn't Harley Golden's style to call a perfect stranger. But here she was, after the briefest of conversations on a flight home from a business trip, having phone sex with the unforgettable Gardner Barnes who'd handed her his card.
The late night conversations aren't enough, so what next? Let him fly her across Texas in his plane? Fall head over heels for a man who is already married to his ranch? A man who has lust down to an art but doesn't believe in love?
Book Details
File Namecall-me-by-alison-kent.epub
Original TitleCall Me: sold live on CBS 48 Hours (Barnes Brothers Book 1)
Creator

Alison Kent

Languageen
IdentifierMOBI-ASIN:B0721HKB3P
Publisher

Rocks and Ink

Date2017-06-09T18:30:00+00:00
Subjectsteamy romance,alpha males,texas romance,Pregnant heroine romance,cowboy romance,sexy romance,sexy men,Romance,hot and sexy,Alpha hero,hot romance,reunion romance,Fiction,friends to lovers romance,ranch romance,secret baby romance
File Size268.376 KB
Table of Content
1. Title Page
2. Praise for CALL ME
3. One
4. Two
5. Three
6. Four
7. Five
8. Six
9. Seven
10. Eight
11. Nine
12. Ten
13. Eleven
14. Twelve
15. Thirteen
16. Fourteen
17. Fifteen
18. Sixteen
19. Seventeen
20. Eighteen
21. Nineteen
22. Twenty
23. Twenty-one
24. Twenty-two
25. Twenty-three
26. Author's Note
27. Reader Letter
28. More Books By the Author
29. Copyright