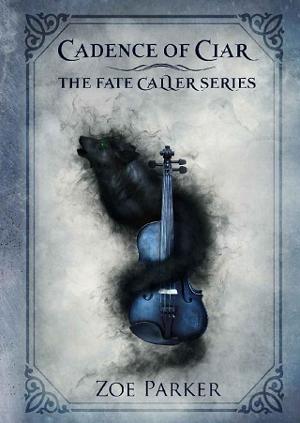 Magic and Mayhem
Both go together in my opinion because if you have one the other is always present. Ciar is the epitome of both and in some ways my furry arch-nemesis. He's been with me since I was a child. Now he's followed me to the Menagerie. Except he's no longer in his canine form, Ciar is now 100% Fae male.
Which I'm not prepared for. Not that I'm prepared for this place at all either. I don't want to be here. This school is a hen-house for the rich and powerful to reach in and pluck the special people out like fat hens while the rest are fed to the wolves.
Well, except this time there's one of the big bad ones IN the hen-house. Ciar.
He's the bane of my existence and theirs. Yet, in a roundabout way, he's also my best friend, and even though he looks at me like I'm dinner, I'm not afraid.
I'm pretty sure I look at him exactly the same way.
Book Details
File Namecadence-of-ciar-by-zoe-parker.epub
Original TitleCadence of Ciar (The Fate Caller Series Book 1)
Creator

Zoe Parker

Languageen
IdentifierMOBI-ASIN:B07BC59X38
Date2018-04-09T16:00:00+00:00
File Size1.053 MB
Table of Content
1. Title Page
2. Copyright
3. Table of Contents
4. Dedication
5. Epigraph
6. The first in a Multiple Mayhem series…
7. Chapter 1
8. Chapter 2
9. Chapter 3
10. Chapter 4
11. Chapter 5
12. Chapter 6
13. Chapter 7
14. Chapter 8
15. Chapter 9
16. Chapter 10
17. Chapter 11
18. Chapter 12
19. Chapter 13
20. Chapter 14
21. Chapter 15
22. Chapter 16
23. Chapter 17
24. Chapter 18
25. Chapter 19
26. Chapter 20
27. Chapter 21
28. Chapter 22
29. Chapter 23
30. Chapter 24
31. Chapter 25
32. Chapter 26
33. Chapter 27
34. Chapter 28
35. Chapter 29
36. Chapter 30
37. Chapter 31
38. Chapter 32
39. Chapter 33
40. Chapter 34
41. Chapter 35
42. Chapter 36
43. To the wonderful reader of this book-
44. Acknowledgments
45. About the Author
46. Afterword
47. Also by Zoe Parker