Breaking by Barbara Elsborg
no ratings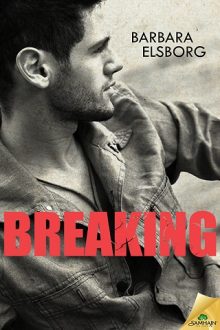 Archer Hart is on the move before the man he's just killed is found. When a bullet whizzes past his ear, he realizes hunter is now hunted. So much for his retirement plans. Someone wants him dead and all he can do is keep running.
Downed by a hit and run driver, barrister Conrad Black is certain the 'accident' was deliberate but he has no proof or support. In recovery, struggling to work out of partial paralysis, he has plenty of time to wonder who regrets not striking him harder. At this point, running anywhere is a distant dream.
The confidence, determination and stamina of two alphas males will mean little if neither is willing to bend—seize the love offered—and work together to understand why they're suddenly both marked men. Not easy for either when Archer has broken the law in the worst possible way and Conrad is the law.
File Name:breaking-by-barbara-elsborg.epub
Original Title:Breaking: Fall or Break, Book 2
Creator:

Barbara Elsborg

Language:en-US
Identifier:urn:uuid:B8D2C822-79B4-4B06-B818-69F9C1F0CE01
Publisher:

Samhain Publishing, Ltd.

Date:2015-07-28
Subject:MM;m/m;romantic suspense
File Size:1.128 MB
Table of Content
1. Chapter One
2. Chapter Two
3. Chapter Three
4. Chapter Four
5. Chapter Five
6. Chapter Six
7. Chapter Seven
8. Chapter Eight
9. Chapter Nine
10. Chapter Ten
11. Chapter Eleven
12. Chapter Twelve
13. Chapter Thirteen
14. Chapter Fourteen
15. Chapter Fifteen
16. Chapter Sixteen
17. Chapter Seventeen
18. Chapter Eighteen
19. Chapter Nineteen
20. Chapter Twenty
21. Chapter Twenty-One
22. Chapter Twenty-Two
23. Chapter Twenty-Three
24. Epilogue
25. About the Author
26. Look for these titles by Barbara Elsborg