Abducted by the Mountain Man by Ambrielle Kirk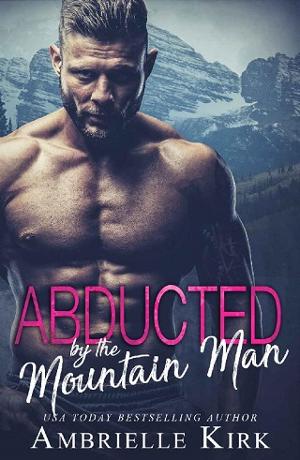 I'm an ex-contract killer. A retired professional. I don't do attachments. I don't trust. For years, I spent my life pulling the trigger for cold, hard cash. Now that I've left that lifestyle, I want to be left alone. Determined not to go back to the way things were—making enemies, f*cking women and leaving a trail of broken hearts behind me—I resist all temptations.
Until her. I find Alexis snooping around on my property. I won't have my location compromised, so I take her captive. I tell myself the sexy spitfire isn't as innocent as she looks. The truth is I want to possess every beautiful curvy inch of her body. I want to keep her as my prisoner and make her beg and scream.
Alexis knows I can't resist her and she witnesses as I lose control. She knows my weakness. She's discovered my secret and uses it to her advantage. But just as I thought, Alexis has secrets of her own.
In exchange for her freedom and sweet revenge, I'll take her to my bed. I'll accept her innocence.
But for the first time in my life, I break my own rule. I've fallen hard for her…

File Name:abducted-by-the-mountain-man-by-ambrielle-kirk.epub
Original Title:Abducted by the Mountain Man
Creator:

Ambrielle Kirk

Language:en
Identifier:MOBI-ASIN:B07CQ7D4RW
Publisher:

Books by Ambrielle

Date:2018-04-26T05:00:00+00:00
File Size:282.522 KB
Table of Content
1. Title Page
2. Copyright
3. Contents
4. Story Summary
5. Prologue
6. Chapter 1
7. Chapter 2
8. Chapter 3
9. Chapter 4
10. Chapter 5
11. Chapter 6
12. Chapter 7
13. Chapter 8
14. Chapter 9
15. Chapter 10
16. Chapter 11
17. Chapter 12
18. Chapter 13
19. Chapter 14
20. Chapter 15
21. Chapter 16
22. Chapter 17
23. Chapter 18
24. Chapter 19
25. Epilogue
26. Message from Ambrielle Kirk
27. Other Contemporary Romance Novels

Taken by Temptation Story Summary
Chapter 1
Chapter 2
Chapter 3
Chapter 4
Chapter 5
Chapter 6
Chapter 7
Chapter 8
Chapter 9
Chapter 10
Chapter 11
Chapter 12
Chapter 13
Chapter 14
Chapter 15
Chapter 16
Epilogue

28. Newsletter
29. About the Author