Wicked Paradise by Tia Lewis
no ratings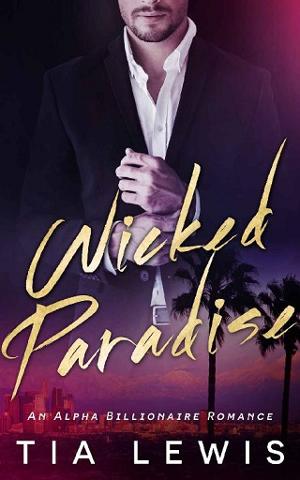 Billionaires have it all, right? Money. Earthly possessions. Women. You name it, we have it—until we don't.
When my past threatens everything I've worked so hard for, I hire the best legal team to come to my defense.
I'd never guess that one act would bring Bianca Reed—my new lawyer—to my door.
A goddamn captivating woman with fire in her eyes that draws me in like no other. Though, behind the ferocity, there's an innocence and purity that excites me and makes me think past my usual one night stand.
Although her words deny it, her body language tells me she's drawn to my unconventional lifestyle.
I need her to save me—in more ways than one—but will my way of life run her away before she even step foot in the courtroom?
File Name:wicked-paradise-by-tia-lewis.epub
Original Title:Wicked Paradise: An Alpha Billionaire Romance
Creator:

Tia Lewis

Language:en
Identifier:MOBI-ASIN:B0733KKYX8
Publisher:

Salted Pen Publications

Date:2017-06-20T18:30:00+00:00
File Size:493.093 KB
Table of Content
1. Copyright
2. Mailing List
3. Books by Tia Lewis
4. About the Book
5. 1. Bianca
6. 2. Bianca
7. 3. Bianca
8. 4. Bianca
9. 5. Bianca
10. 6. Bianca
11. 7. Dustin
12. 8. Bianca
13. 9. Dustin
14. 10. Bianca
15. 11. Bianca
16. 12. Dustin
17. 13. Bianca
18. 14. Dustin
19. 15. Bianca
20. 16. Dustin
21. 17. Bianca
22. 18. Bianca
23. 19. Bianca
24. 20. Bianca
25. 21. Bianca
26. 22. Bianca
27. 23. Dustin
28. 24. Bianca
29. 25. Bianca
30. 26. Bianca
31. 27. Bianca
32. 28. Bianca
33. Thank You
34. FREE Bonus Book: Only One You – Tia Lewis & Penelope Marshall

You and Me Series
About This Book
Copyright
1. Amanda
2. Dawson
3. Amanda
4. Dawson
5. Amanda
6. Dawson
7. Amanda
8. Dawson
9. Amanda
10. Dawson
11. Amanda
12. Dawson
13. Amanda
14. Dawson
15. Dawson
16. Amanda
17. Dawson
18. Amanda
19. Dawson
20. Dawson
21. Amanda
22. Dawson
23. Amanda
Thank You
You and Me Series
Books by Penelope Marshall
About Penelope Marshall

35. Mailing List
36. Books by Tia Lewis
37. About Tia Lewis