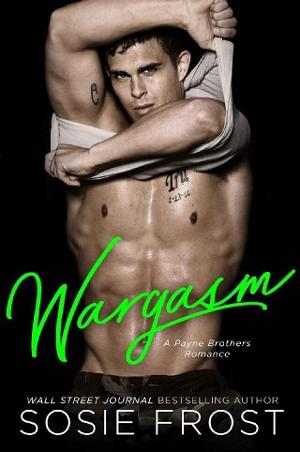 Marius Payne is the kind of sailor who makes me go commando.
He's the only man I've let invade my foxhole, but now he's occupying my heart.
Marius is arrogant. He's broody. He's wounded in more ways than one. And that's when he drops a bombshell.
The only way he can secure a cushy job in DC is if he softens his image and transforms from a rogue Navy SEAL into a family man.
So, of course, I agree to have his baby.
Make love, not war.
Then make war.
File Name:wargasm-by-sosie-frost.epub
Original Title:Wargasm (Payne Brothers Romance Book 3)
Creator:

Sosie Frost

Language:en
Identifier:MOBI-ASIN:B07DC58TMM
Date:2018-05-26T16:00:00+00:00
File Size:1.086 MB
Table of Content
1. I. Wargasm

Title Page
About the Author
Copyright
Dedication
Also by Sosie Frost
A Note From Sosie
Contents
Chapter 1
Chapter 2
Chapter 3
Chapter 4
Chapter 5
Chapter 6
Chapter 7
Chapter 8
Chapter 9
Chapter 10
Chapter 11
Chapter 12
Chapter 13
Chapter 14
Chapter 15
Chapter 16
Chapter 17
Chapter 18
Chapter 19
Chapter 20
Chapter 21
Chapter 22
Epilogue
Epilogue
Coming Soon - Sixty Nine
Also by Sosie Frost
About the Author

2. Babyjacked - Payne Family Romances #1

Copyright
Chapter 1
Chapter 2
Chapter 3
Chapter 4
Chapter 5
Chapter 6
Chapter 7
Chapter 8
Chapter 9
Chapter 10
Chapter 11
Chapter 12
Chapter 13
Chapter 14
Chapter 15
Chapter 16
Chapter 17
Chapter 18
Chapter 19
Chapter 20
Chapter 21
Chapter 22
Chapter 23
Epilogue

3. Boyfrenemy - Payne Brothers Romance #2

Copyright
Dedication
Chapter 1
Chapter 2
Chapter 3
Chapter 4
Chapter 5
Chapter 6
Chapter 7
Chapter 8
Chapter 9
Chapter 10
Chapter 11
Chapter 12
Chapter 13
Chapter 14
Chapter 15
Chapter 16
Chapter 17
Chapter 18
Chapter 19
Chapter 20

4. While They Watch

Copyright
Dedication
Note From Sosie
Chapter 1
Chapter 2
Chapter 3
Chapter 4
Chapter 5
Chapter 6
Chapter 7
Chapter 8
Chapter 9
Chapter 10
Chapter 11
Chapter 12
Chapter 13
Chapter 14
Chapter 15
Chapter 16
Chapter 17
Chapter 18
Chapter 19
Chapter 20
Chapter 21
Chapter 22
Bonus Epilogue!
Also by Sosie Frost
Also By Lana Grayson