Waiting for You by A.M. Arthur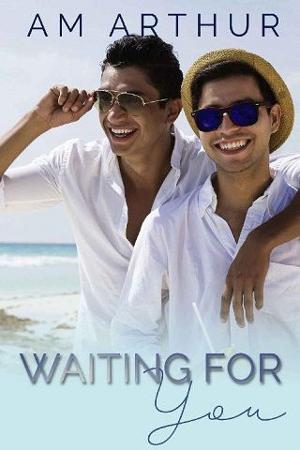 Clancy Jons never expected to fall in love while attending Reynolds College, never mind falling in love with a man, but he did. Clancy fell hard and fast, but his strict, Catholic upbringing and personal insecurities pushed Samir away—and out of the state. Four years later, Clancy accepts a job as the general manager of Neighborhood Shindig—a trendy local place full of food trucks and small businesses—and it brings him face to face with Samir again.
Samir Ford left Reynolds for Philadelphia to start over after Clancy refused to come out and broke his heart, but now Samir is back to help his beloved aunt after a serious stroke. His food truck in Neighborhood Shindig is thriving, and he's creating new friendships there, but he's never truly gotten over his first love. A first love who strolls back into his life as Samir's brand-new boss. A super-hot boss Samir still has feelings for.
After an unexpected, sizzling-hot encounter, both men know they still love each other, but there's been too much hurt. Too many broken promises. Clancy is a changed man, though, and he vows to prove himself to Samir and earn back his lover's trust—even if it means coming out to and losing his family's love. But Samir's heart is still bruised and wary, and he isn't sure he can risk it being shattered a second time.
File Name:waiting-for-you-by-a-m-arthur.epub
Original Title:Waiting For You: Neighborhood Shindig #3
Creator:

A.M. Arthur

Language:en
Identifier:MOBI-ASIN:B07V5K186G
Publisher:

Briggs-King Books

Date:2019-07-08T16:00:00+00:00
File Size:193.271 KB
Table of Content
1. Title Page
2. Contents
3. Blurb
4. Copyright
5. Dear Reader,
6. Chapter 1
7. Chapter 2
8. Chapter 3
9. Chapter 4
10. Chapter 5
11. Chapter 6
12. Chapter 7
13. Chapter 8
14. Chapter 9
15. Chapter 10
16. Chapter 11
17. Chapter 12
18. Bonus Recipe
19. Also by A.M. Arthur
20. About the Author