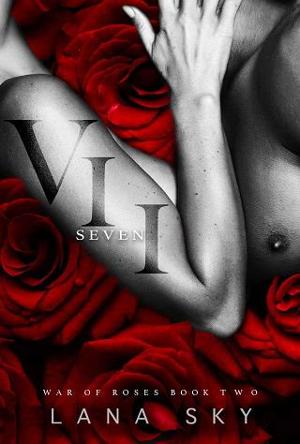 WHEN OBSESSION BECOMES DESIRE…
Ellen Winthorp has no choice but to rely on the protection of Mischa Stepanov—the vicious mafia leader who captured and disfigured her. But the more she learns about him, the deeper she falls into a world of violence, deception and intrigue where danger lurks around every corner.
As long as she plays by his rules, Mischa seems content to drip-feed her information about her family and the secrets shrouding her past.
But her innocent questions may lead to devastating answers…
Book Details
File Namevii-seven-by-lana-sky.epub
Original TitleVII: Seven (War of Roses Book 2)
Creator

Lana Sky

Languageen
IdentifierMOBI-ASIN:B07RTRQKYJ
Publisher

Lana Sky

Date2019-06-11T18:30:00+00:00
File Size466.537 KB
Table of Content
1. Title Page
2. Copyright
3. Acknowledgments
4. Contents
5. Preface
6. Chapter 1
7. Chapter 2
8. Chapter 3
9. Chapter 4
10. Chapter 5
11. Chapter 6
12. Chapter 7
13. Chapter 8
14. Chapter 9
15. Chapter 10
16. Chapter 11
17. Chapter 12
18. Chapter 13
19. Chapter 14
20. Chapter 15
21. Chapter 16
22. Chapter 17
23. Chapter 18
24. Chapter 19
25. Chapter 20
26. Chapter 21
27. Chapter 22
28. Chapter 23
29. Chapter 24
30. Sample of I…
31. A Word from the Author
32. About the Author
33. Also by Lana Sky