Victim of Seduction by Liza Mitchell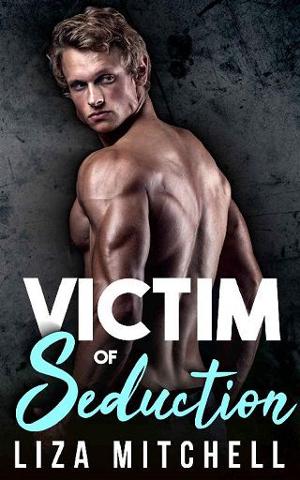 "Sloane." Marc's voice rumbled deep within his chest.
"All that matters is that you like it."
She backed away slowly, hoping the hum thrumming through her would settle down. Stop. Instead, her pulse only quickened as he stalked toward her, his presence suddenly filling the room, his sights set on her.
"Sit," he said, pointing to the couch.
She continued backward across her living room until her calves grazed upholstery. She couldn't take her eyes off him. Sparks of excitement shot through her stomach.
She should be scared.
He was a predator, and she'd just denied him his meal.
We're supposed to be finding some psycho, saving innocent people… aren't we?
"Sloane, sit!"
His order filled the room, bouncing off the walls, vibrating through her core.
Two seconds ago, she'd had the self-control to run away… but there was no harm in sitting on a couch, right? Right. She took two small steps to the side before sitting down, putting the coffee table between the two of them.
Marc stepped closer.
File Name:victim-of-seduction-by-liza-mitchell.epub
Original Title:Victim of Seduction (Hot Pursuit Book 2)
Creator:

Liza Mitchell

Language:en
Identifier:MOBI-ASIN:B07YPXMW4S
Publisher:

Feather & Bleed Press

Date:2019-10-07T16:00:00+00:00
File Size:159.023 KB
Table of Content
1. Table of Contents
2. Victim of Seduction
3. All Rights Reserved.
4. CHAPTER ONE
5. CHAPTER TWO
6. CHAPTER THREE
7. CHAPTER FOUR
8. CHAPTER FIVE
9. CHAPTER SIX
10. CHAPTER SEVEN
11. CHAPTER EIGHT
12. Also by Liza Mitchell
13. About the Author