Trial for the Shadow King by Bailey Dark
no ratings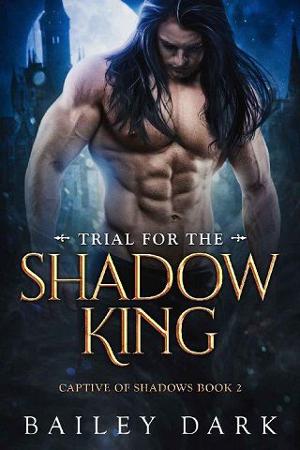 Our passion burns brighter than the flames of the underworld . . .
In the last few months, life has gone from complicated, to unimaginable.
Kane says we must go to the mortal realm If we want to keep the tenuous peace between mortals and the God of Death. I'll show a brave face—but the truth is, I'm terrified. Not just for my safety, but for the safety of the man who's managed to work his way further and further into my heart.
With the leader of the rogue Nephilim plaguing humanity, it won't be long before the mortals realize the origin of the dark creature–and seek retribution.
This soulbond has my brooding, infuriating—and far too sexy husband—acting in ways I'd never expect. But I have secrets, and if he discovers them, it may destroy everything we've built. I'm supposed to fulfill a vow I made, but this yearning is a delicious temptation that's becoming harder and harder to resist…
File Name:trial-for-the-shadow-king-by-bailey-dark.epub
Original Title:Trial for The Shadow King (Captive of Shadows Book 2)
Creator:

Bailey Dark

Language:en
Identifier:MOBI-ASIN:B07Y29KND7
Date:2019-09-16T16:00:00+00:00
File Size:267.785 KB
Table of Content
1. Title Page
2. Copyright
3. Contents
4. Chapter 1
5. Chapter 2
6. Chapter 3
7. Chapter 4
8. Chapter 5
9. Chapter 6
10. Chapter 7
11. Chapter 8
12. Chapter 9
13. Chapter 10
14. Chapter 11
15. Chapter 12
16. Chapter 13
17. Chapter 14
18. Chapter 15
19. Chapter 16
20. Chapter 17
21. Chapter 18
22. Chapter 19
23. About the Author
24. FREE Preview - Stolen by the Fae King
25. FREE Preview - The Beast King's Bride
26. Subscribe & Claim Your Free Book!