Treasures of Skye by Tarah Scott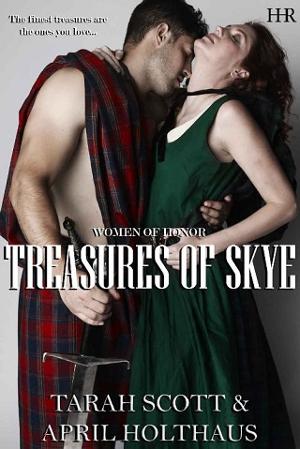 For years, master thief Helena Donald has lived at Glenwood Abbey and submitted to Malcolm Donald's bidding. Desperate to break free of his control, Helena agrees to steal the MacLeod Faire Flag for Malcolm for she intends to sell the flag and start a new life far from Malcolm. When Helena is caught in a blizzard, she prefers to die in the cold wasteland rather than return to the abbey.
Kaden MacLeod has chosen a solitary life in a cabin on the shore of Loch Haven. But a woman's scream during a raging snowstorm sends him racing to rescue Helena from the frigid waters of the frozen loch. When he learns that this beautiful young woman is about to commit the same crime for which his father, Laird MacLeod, hung Kaden's younger brother, he'll stop at nothing to prevent her from facing a similar fate.
Book Details
File Nametreasures-of-skye-by-tarah-scott.epub
Original TitleTreasures of Skye (Women of Honor Book 2)
Creator

April Holthaus

Languageen
IdentifierMOBI-ASIN:B079DK8H4T
Publisher

Scarsdale Publishing, Ltd

Date2018-02-11T16:00:00+00:00
File Size122.708 KB
Table of Content
1. Chapter One
2. Chapter Two
3. Chapter Three
4. Chapter Four
5. Chapter Five
6. Chapter Six
7. Chapter Seven
8. Chapter Eight
9. Chapter Nine