Touchdowns and Tiaras: Complete Box Set by Sosie Frost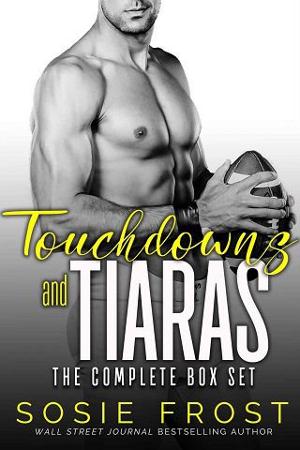 For the first time, Sosie Frost has collected her toe-curling, heart-pounding, lip-biting football romances in one smexy, twelve hundred page bundle! Each fairy-tale sports romance is a complete BWWM standalone, but you'll love reading them in order.
The Touchdowns and Tiaras Boxed Set features all four romantic comedies from the Ironfield Rivets Series: Love at First Down, Beauty and the Blitz, Once Upon A Half-Time, and Happily Ever All-Star
Love at First Down: Play-maker. Trouble-maker.
…Baby-maker?
Star Quarterback Jack Carson has the worst reputation in the league…and, as his publicist, this bad boy's behavior threatens both of our jobs. When the league threatens to expel him once-and-for-all, Jack's has one last resort to convince them that he's wholesome, dependable, and responsible.
Jack Carson wants to start a family.
And he's chosen me to give him the baby.
Beauty and the Blitz: Who could ever love a beast?
All-star linebacker Cole Hawthorne is a beast on the field, destroying offenses one broken quarterback at a time. His violent reputation makes him a liability to his team, a villain in the league, and a pain-in-my-ass as my client.
If this monster of a man wants to stay in the league, he's gotta do what I say…but the more I try to tame the beast, the more I fall for the man beneath. He's passionate. Charming. And even the league's most fearsome demon can't resist my baby's giggle.
Do I save our careers…or should I protect a man who deserves his own happily ever after?
Once Upon A Half-Time: Do you believe in love at first…drink?
Lachlan Reed is the Ironfield Rivets' most-anticipated rookie…and he's also my biggest mistake. Our three-day Vegas sextravangza is a hazy blur, but seeing him at training camp rings a bell…wedding bells.
As the Rivets' team photographer, it's my job to document the players, not marry them. But Lachlan insists I'll fall madly in love with him by the sunset of our third date.
By date one: I'm head-over-heels.
Date number two: I'm pregnant.
After date three? Well…good thing I don't believe in fairy-tales.
Only happily-ever-disasters.
Happily Ever All-Star: Can you fake a happily-ever-after?
Jude Owens is the most respected player in the league, but a concussion nearly ends his career. Jude refuses to retire without the ultimate honor—a championship.
As the team's neurologist, I must be impartial when my life-long friend hops onto the exam table, but Jude proposes a solution to both of our problems. If I clear him to play…he'll pretend to the be the father of my unborn baby.
Jude rescues me from scandal, but our fake romance reveals very real feelings. Falling in love with him risks everything—his health, my job, and the future of our beautiful Once Upon a Time.
It's up to me to save my prince charming…
Even if I must lose my happily-ever-after.
File Name:touchdowns-and-tiaras-complete-box-set-by-sosie-frost.epub
Original Title:Touchdowns and Tiaras: The Complete Boxed Set
Creator:

Frost, Sosie

Language:en
Identifier:3221857369
Date:2019-09-14
File Size:1.698 MB
Table of Content
1. Title Page
2. Copyright
3. Note From Sosie
4. Contents
5. Love At First Down

Full Page Image
Dedication
1. Jack
2. Leah
3. Leah
4. Jack
5. Leah
6. Jack
7. Leah
8. Jack
9. Leah
10. Jack
11. Leah
12. Jack
13. Leah
14. Jack
15. Leah
16. Leah
17. Jack
18. Leah
19. Jack
20. Leah
21. Jack
22. Jack
23. Leah
24. Leah
Epilogue

6. Beauty and the Blitz

Full Page Image
Dedication
1. Piper
2. Cole
3. Piper
4. Cole
5. Piper
6. Cole
7. Piper
8. Cole
9. Piper
10. Cole
11. Cole
12. Piper
13. Cole
14. Piper
15. Cole
16. Cole
17. Piper
18. Piper
19. Cole
20. Piper
21. Cole
22. Piper
23. Cole
24. Epilogue - Piper

7. Once Upon A Half-Time

Full Page Image
Dedication
1. Elle
2. Lachlan
3. Elle
4. Lachlan
5. Elle
6. Lachlan
7. Elle
8. Lachlan
9. Elle
10. Lachlan
11. Elle
12. Lachlan
13. Elle
14. Lachlan
15. Elle
16. Lachlan
17. Elle
18. Elle
19. Lachlan
20. Lachlan
21. Elle
22. Lachlan
23. Lachlan
24. Elle
Lachlan's Epilogue
Elle's Epilogue

8. Happily Ever All-Star

Full Page Image
Dedication
1. Rory
2. Jude
3. Rory
4. Jude
5. Rory
6. Jude
7. Rory
8. Rory
9. Jude
10. Rory
11. Jude
12. Rory
13. Jude
14. Rory
15. Jude
16. Jude
17. Rory
18. Jude
19. Rory
20. Jude
21. Rory
22. Rory
23. Jude
24. Rory
25. Jude
Epilogue - Rory
Now Available - Baby Daddy!
Also by Sosie Frost
About the Author