Throne of Truth by Pepper Winters
no ratings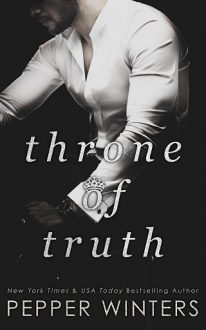 The thrilling conclusion to Crown of Lies from New York Times Bestseller, Pepper Winters
"My body blinded me while his lies destroyed me. Penn Everett swept me from my world and into his, and when his lies fell apart, I finally opened my eyes to the truth. The awful, terrible truth."
Noelle Charlston had it all: her company, a love affair, power and protection.
However, she didn't pay attention, and in one night, everything she believed in, everyone she trusted turned out to be worse than fake.
Now, she has no one to help her. No one to free her.
She's on her own and has to make the choice.
Who to believe?
Who to fight?
File Name:throne-of-truth-by-pepper-winters.epub
Original Title:Throne of Truth
Creator:

Pepper Winters

Language:en
Identifier:urn:uuid:523352ce-caa7-4793-94ac-e2420b9d59c7
Publisher:

Pepper Winters

Date:2017-02-28T08:00:00+00:00
Subject:Dark Romance,contemporary romance,romantic comedy,Romantic Suspense,coming of age,new adult,pepper winters,thriller,Angst,suspense,erotic,erotic suspense,series,general romance,Bad Boy Romance,hot alpha,New York Times Bestseller
File Size:355.704 KB
Table of Content
1. THRONE OF TRUTH
2. OTHER WORK BY PEPPER WINTERS
3. Throne of Truth Blurb
4. Dedication
5. Prologue
6. Chapter One
7. Chapter Two
8. Chapter Three
9. Chapter Four
10. Chapter Five
11. Chapter Six
12. Chapter Seven
13. Chapter Eight
14. Chapter Nine
15. Chapter Ten
16. Chapter Eleven
17. Chapter Twelve
18. Chapter Thirteen
19. Chapter Fourteen
20. Chapter Fifteen
21. Chapter Sixteen
22. Chapter Seventeen
23. Chapter Eighteen
24. Chapter Nineteen
25. Chapter Twenty
26. Chapter Twenty-One
27. Chapter Twenty-Two
28. Chapter Twenty-Three
29. Chapter Twenty-Four
30. Chapter Twenty-Five
31. Chapter Twenty-Six
32. Chapter Twenty-Seven
33. Chapter Twenty-Eight
34. Chapter Twenty-Nine
35. Chapter Thirty
36. Chapter Thirty-One
37. Chapter Thirty-Two
38. Chapter Thirty-Three
39. Letter from Penn
40. Letter from Elle
41. Chapter Thirty-Four
42. Letter from Elle
43. Letter from Penn
44. Chapter Thirty-Five
45. Chapter Thirty-Six
46. Chapter Thirty-Seven
47. Chapter Thirty-Eight
48. Chapter Thirty-Nine
49. Chapter Forty
50. Chapter Forty-One
51. Chapter Forty-Two
52. Chapter Forty-Three
53. Chapter Forty-Four
54. Chapter Forty-Five
55. Chapter Forty-Six
56. Epilogue
57. ACKNOWLEDGMENTS
58. OTHER WORK BY PEPPER WINTERS
59. ABOUT THE AUTHOR