Third Term by Rachel Jonas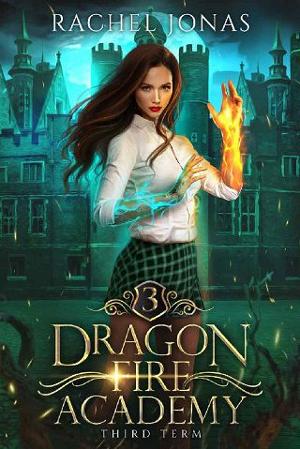 Love conquers all … but can it conquer the Darkness?
My mates have laid it all on the line, including their hearts. The four dragons of the Omega Hive have been my fierce protectors, but I'm not sure that's enough anymore. I'm starting to wonder if life on this island might just be the death of me.
Or … the death of everyone.
My limits were tested during the academy's first two terms. Now, as I enter the third, it's clear I've only scratched the surface before now. For starters, I'm spiraling, and thanks to a few bad decisions, I've lost nearly everyone's trust.
I should have given up by now, but I can't seem to do that.
It isn't lost on me that my days are numbered, but that won't stop me from saving as many as I can from what I sense on the horizon.
Even if the terror that awaits is … me.
There's no way to tell whether good will triumph over evil in the end. Let's just hope that, as the darkness continues to grow within me, I'm still able to tell the difference.
File Name:third-term-by-rachel-jonas.epub
Original Title:Dragon Fire Academy 3: Third Term
Creator:

Rachel Jonas

Language:en
Identifier:MOBI-ASIN:B07YB3FY2W
Date:2020-01-27T16:00:00+00:00
File Size:345.544 KB
Table of Content
1. Dragon Fire Academy 3
2. Chapter One
3. Chapter Two
4. Chapter Three
5. Chapter Four
6. Chapter Five
7. Chapter Six
8. Chapter Seven
9. Chapter Eight
10. Chapter Nine
11. Chapter Ten
12. Chapter Eleven
13. Chapter Twelve
14. Chapter Thirteen
15. Chapter Fourteen
16. Chapter Fifteen
17. Chapter Sixteen
18. Chapter Seventeen
19. Chapter Eighteen
20. Chapter Nineteen
21. Chapter Twenty
22. Chapter Twenty-One
23. Chapter Twenty-Two
24. Chapter Twenty-Three
25. Chapter Twenty-Four
26. Chapter Twenty-Five
27. Chapter Twenty-Six
28. Chapter Twenty-Seven
29. Chapter Twenty-Eight
30. Bonus Content & More
31. THE COMPLETE LOST ROYALS SAGA