The Wicked Governess by Mary Lancaster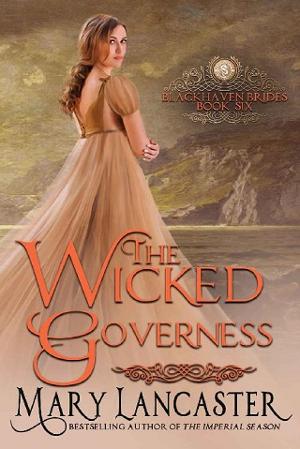 Can the governess teach a damaged hero?
Caroline Grey is devastated when she is dismissed from her post as governess to the Earl of Braithwaite's sisters. Finding temporary sanctuary at the eerie and neglected Haven Hall, she does not expect to enjoy the challenges presented by the house's dark and forbidding tenant, Javan Benedict, or by her mute and needy pupil.
However, she is quickly intrigued by the oddly charming family and drawn into the several mysteries surrounding them and the hall. What tragedy lurks in Benedict's past, and why does his daughter choose not to speak? Who is trying to frighten them from the house? And most of all, what is the irresistible fascination of Caroline's troubled employer, and how does she help him without losing her heart and her reputation?
File Name:the-wicked-governess-by-mary-lancaster.epub
Original Title:The Wicked Governess (Blackhaven Brides Book 6)
Creator:

Mary Lancaster

Language:en
Identifier:MOBI-ASIN:B07CH3GCKQ
Publisher:

Dragonblade Publishing, Inc.

Date:2018-04-18T05:00:00+00:00
Subject:Regency,Historical,fiction,romance
File Size:276.134 KB
Table of Content
1. Title Page
2. Copyright Page
3. Books from Dragonblade Publishing
4. Table of Contents
5. Chapter One
6. Chapter Two
7. Chapter Three
8. Chapter Four
9. Chapter Five
10. Chapter Six
11. Chapter Seven
12. Chapter Eight
13. Chapter Nine
14. Chapter Ten
15. Chapter Eleven
16. Chapter Twelve
17. Chapter Thirteen
18. Chapter Fourteen
19. Chapter Fifteen
20. Chapter Sixteen
21. Chapter Seventeen
22. Chapter Eighteen
23. Chapter Nineteen
24. Chapter Twenty
25. Excerpt from The Wicked Marquis
26. Mary Lancaster's Newsletter
27. Other Books by Mary Lancaster
28. About Mary Lancaster