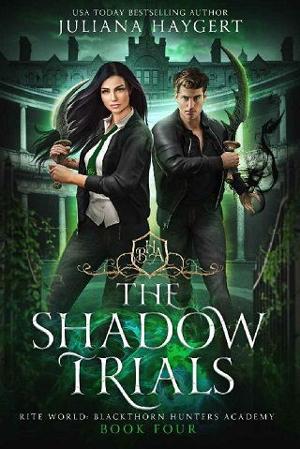 A demon hunter destined for greatness. A half-demon out to solve a mystery. And a tournament that threatens to take their lives…
Erin
Everything at the academy has changed. A bloodthirsty new headmaster has taken over the school, and my friends and I are being forced to endure his relentless torment.
Besides getting through my classes, I've got a huge burden on my shoulders. My father, King Brikan and lord over all demons, is rising in power. To defeat him and save the supernatural realm from the terrors of the underworld, I need to find my missing sisters… a task that's proving impossible.
Rey
I've never been freer in my life–and at the same time, never been more trapped.
Erin and I have to be on our guard. Students are being attacked, and there's a traitor in our midst.
Even worse, Erin and I are both forced to enter a tournament due to our demon blood. All half-demons must prove they are worthy enough to attend the academy by enduring a deadly contest. One I'm not sure we'll survive.
But nothing is what it seems, and the answers to all our mysteries are lurking in the shadows…
Book Details
File Namethe-shadow-trials-by-juliana-haygert.epub
Original TitleThe Shadow Trials (Rite World: Blackthorn Hunters Academy Book 4)
Creator

Juliana Haygert

Languageen
IdentifierMOBI-ASIN:B07X88Z3YB
Date2019-11-13T16:00:00+00:00
File Size293.521 KB
Table of Content
1. Title Page
2. Copyright
3. Contents
4. Author's Note
5. Map
6. Chapter 1
7. Chapter 2
8. Chapter 3
9. Chapter 4
10. Chapter 5
11. Chapter 6
12. Chapter 7
13. Chapter 8
14. Chapter 9
15. Chapter 10
16. Chapter 11
17. Chapter 12
18. Chapter 13
19. Chapter 14
20. Chapter 15
21. Chapter 16
22. Chapter 17
23. Chapter 18
24. Chapter 19
25. Chapter 20
26. Chapter 21
27. Chapter 22
28. Chapter 23
29. Chapter 24
30. Chapter 25
31. Chapter 26
32. Chapter 27
33. Thank you
34. About the Author
35. Also by Juliana Haygert