The Run In by Kelly Elliott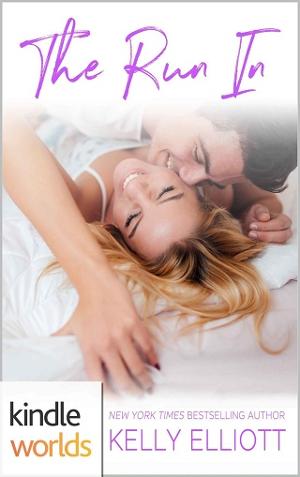 Becoming the new Marketing Manager at Tate and Cane was a game changer. I was hell bent on proving I deserved this job, and that it wasn't my cousin Sterling Quinn who had helped me score the new job title. Him being one of the CEO's best friend—didn't help the rumors.
Well screw that.
Ten years of sweat and hard work was the reason I was sitting in a large corner office with a killer Manhattan view. More focused than I'd ever been, it was time to take the bull by the horns.
And God help the person who stood in in my way.
********
Things I left behind in Seattle, Washington: A promising career at a top marking firm, the past I was desperate to escape, and obviously my sense of direction. It was because of all of those reasons I was standing in the middle of New York City lost and cursing at my phone.
If I didn't get to Tate and Cane soon, I wouldn't only be late, but also blow the chance to make the good impression on my new boss, Mason Quinn. And I needed that more than anything.
One wrong turn, an unfortunate collision, and an expensive suit drenched in my soy chia tea latte was not how I wanted to start my first day.
Then there was the other little problem I had. The drop dead gorgeous man whose suit I'd ruined was my new boss.
And boy did he look pissed.
Book Details
File Namethe-run-in-by-kelly-elliott.epub
Original TitleImperfect Love: The Run In (Kindle Worlds Novella)
Creator

Kelly Elliott

Languageen
IdentifierMOBI-ASIN:B071JML8JD
Publisher

Kindle Worlds

Date2017-06-03T18:30:00+00:00
SubjectThe Run In
File Size155.516 KB
Table of Content
1. The Run In
2. Table of Contents
3. Chapter One
4. Chapter Two
5. Chapter Three
6. Chapter Four
7. Chapter Five
8. Chapter Six
9. Chapter Seven
10. Chapter Eight
11. Chapter Nine
12. Chapter Ten
13. Chapter Eleven
14. Chapter Twelve
15. Chapter Thirteen
16. Chapter Fourteen
17. Chapter Fifteen
18. Chapter Sixteen
19. Chapter Seventeen
20. Chapter Eighteen
21. Books in the Imperfect Love World
22. Other Books by Kelly Elliott
23. About the Author