The (Not So) Perfect Day by Maggie Dallen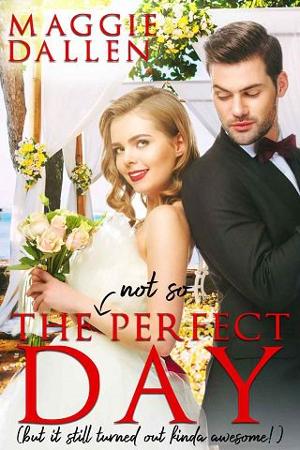 Ellie's planned the perfect wedding, just…with the wrong groom.
Bride-to-be Ellie Thatcher is in the final stages of preparing for her wedding day, and it's supposed to be perfect, right? But it isn't. It can't be. Not without her best friend Ian by her side. Her perfect day would be ruined if he's not there to share it with her. The invitations all went out weeks ago, and the clock is ticking. So where is he already? And more importantly, why are all her thoughts about Ian when she's on the verge of marrying another man?
It's too late to RSVP when photojournalist Ian Ferris receives the invitation to his best friend's wedding. Still, it's not too late to pop in on an old friend and check out the fiancé—for Ellie's sake. Ian tries to put a nice face on it, to be there and show his support for Ellie and her choice. But the truth is, he's going crazy because he can't imagine Ellie with anyone but himself. Will Ian allow Ellie to take her journey down the aisle on the arm of another man and make the biggest mistake of her life? Or will he tell her the truth about his feelings, and help her see that he's more than just her best man…he might just be the love of her life.
Book Details
File Namethe-not-so-perfect-day-by-maggie-dallen.epub
Original TitleThe (Not So) Perfect Day: A Sweet Best Friends Romance
Creator

Maggie Dallen

Languageen
Identifieruuid:9e2612a4-df73-4269-b37b-5d305b7488af
Date2019-05-01T22:00:00+00:00
File Size254.267 KB
Table of Content
1. Title Page
2. Contents
3. Chapter 1
4. Chapter 2
5. Chapter 3
6. Chapter 4
7. Chapter 5
8. Chapter 6
9. Chapter 7
10. Chapter 8
11. Chapter 9
12. Chapter 10
13. Chapter 11
14. Chapter 12
15. Chapter 13
16. Chapter 14
17. Epilogue
18. Dating Prince Charming
19. About the Author