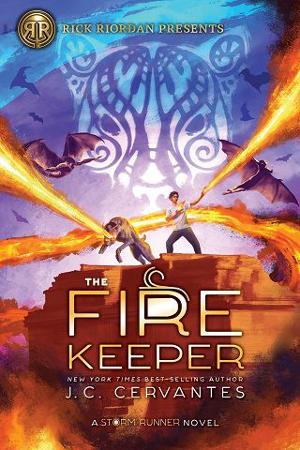 Zane Obispo's new life on a beautiful secluded tropical island, complete with his family and closest friends, should be perfect. But he can't control his newfound fire skills yet (inherited from his father, the Maya god Hurakan); there's a painful rift between him and his dog ever since she became a hell hound; and he doesn't know what to do with his feelings for Brooks. One day he discovers that by writing the book about his misadventures with the Maya gods, he unintentionally put other godborn children at risk. Unless Zane can find the godborns before the gods do, they will be killed. To make matters worse, Zane learns that Hurakan is scheduled to be executed. Zane knows he must rescue him, no matter the cost. Can he accomplish both tasks without the gods detecting him, or will he end up a permanent resident of the underworld?
In this cleverly plotted sequel to The Storm Runner, the gang is back together again with spirited new characters, sneaky gods, unlikely alliances, and secrets darker than Zane could ever have imagined. Secrets that will change him forever.
File Name:the-fire-keeper-by-j-c-cervantes.epub
Original Title:The Fire Keeper
Creator:

J.C. Cervantes

Language:en
Identifier:uuid:9ef1b149-e371-4c72-83d0-9555b803b50b
Publisher:

Disney Book Group

Date:2019-09-15T00:00:00+00:00
File Size:1.216 MB
Table of Content
1. Title Page
2. Copyright
3. Dedication
4. Prologue
5. One
6. Two
7. Three
8. Four
9. Five
10. Six
11. Seven
12. Eight
13. Nine
14. Ten
15. Eleven
16. Twelve
17. Thirteen
18. Fourteen
19. Fifteen
20. Sixteen
21. Seventeen
22. Eighteen
23. Nineteen
24. Twenty
25. Twenty-one
26. Twenty-two
27. Twenty-three
28. Twenty-four
29. Twenty-five
30. Twenty-six
31. Twenty-seven
32. Twenty-eight
33. Twenty-nine
34. Thirty
35. Thirty-one
36. Thirty-two
37. Thirty-three
38. Thirty-four
39. Thirty-five
40. Thirty-six
41. Thirty-seven
42. Thirty-eight
43. Thirty-nine
44. Forty
45. Forty-one
46. Forty-two
47. Forty-three
48. Forty-four
49. Forty-five
50. Forty-six
51. Postscript
52. Glossary
53. Acknowledgements
54. About the Author
55. Keep reading for a sneak peek at Dragon Pearl by Yoon Ha Lee!
56. Keep reading for a sneak peek at Sal and Gabi Break the Universe by Carlos Hernandez!