The Boy I Love the Most by J.J. Riley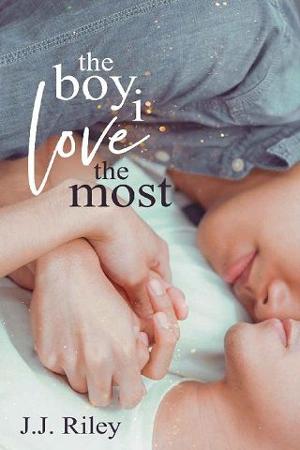 Ashton Carpenter tried his best to be invisible, staying under the radar and pining after the boy he's loved for years, but knows he can't have. Hiding among the choir, he was content to be ignored at school. But in order to make his singing dreams come true and win the scholarship, he has to push aside that shyness and stand out.
When new kid, Maverick Cole shows up, all of Ashton's plans are thrown into chaos. Now he has to work with his new duet partner to perfect their song for the biggest choir competition in the country.
The moment things start to look up, Ashton suddenly finds himself at the lowest point in his life. His new friend steps in to save him, proving their friendly rivalry might be more than friendship, on and off the stage. If only he could tell Maverick how he really feels.
With his heart and his future on the line, will Maverick and Ashton be able to work together to make this work or will the pressure of winning tear them apart?
The stakes are high, so Ashton will have to be ready to not only stand out, but come out. Especially if he wants to win both the competition and his Maverick's heart.
Besides, who needs therapy when you have harmony?
File Name:the-boy-i-love-the-most-by-j-j-riley.epub
Original Title:The Boy I Love The Most
Creator:

J.J. Riley

Language:en
Identifier:MOBI-ASIN:B0834JFBRT
Date:2020-01-17T16:00:00+00:00
File Size:467.427 KB
Table of Content
1. Title Page
2. Dedication
3. Contents
4. Copyright
5. Warning
6. Thank You
7. Chapter 1
8. Chapter 2
9. Chapter 3
10. Chapter 4
11. Chapter 5
12. Chapter 6
13. Chapter 7
14. Chapter 8
15. Chapter 9
16. Chapter 10
17. Chapter 11
18. Chapter 12
19. Chapter 13
20. Chapter 14
21. Chapter 15
22. Epilogue
23. Afterword
24. Also by J.J. Riley