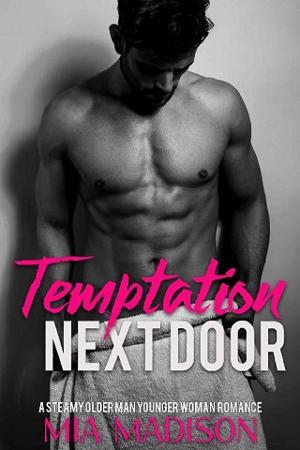 "Your sweet mouth is going to kill me, babe."
Lindsay
Dark eyes, hard body, and a voice that could sell wood to a tree. Radio personality Gavin Day is not just a voice on the air to me … he's my next-door neighbor.And my best friend's dad!I'll die a thousand embarrassing deaths if they find out.I never dreamed he could feel the same … but then everything changes. And the consequences are far worse than I ever thought.
Gavin
My daughter's friend, Lindsay, grew up when I wasn't looking. And now her soft, sweet curves are so off limits it isn't funny.I don't dare go there.But then I do. The fallout from that night is unimaginable. I have to give Lindsay up … but how can I do that, knowing how good it can be with her in my arms, in my life, and in my bed?
Book Details
File Nametemptation-next-door-by-mia-madison.epub
Original TitleTemptation Next Door: A Steamy Older Man Younger Woman Romance
Creator

Mia Madison

Languageen
IdentifierMOBI-ASIN:B0753N7WVS
Date2017-08-22T16:00:00+00:00
File Size133.771 KB
Table of Content
1. CHAPTER 1
2. CHAPTER 2
3. CHAPTER 3
4. CHAPTER 4
5. CHAPTER 5
6. CHAPTER 6
7. CHAPTER 7
8. CHAPTER 8
9. CHAPTER 9
10. CHAPTER 10
11. CHAPTER 11
12. CHAPTER 12
13. CHAPTER 13
14. CHAPTER 14
15. CHAPTER 15
16. CHAPTER 16
17. CHAPTER 17
18. CHAPTER 18
19. CHAPTER 19
20. CHAPTER 20
21. CHAPTER 21
22. CHAPTER 22
23. CHAPTER 23
24. CHAPTER 24
25. CHAPTER 25
26. CHAPTER 26
27. EPILOGUE