Teacher's Pet by Kayla Drake
no ratings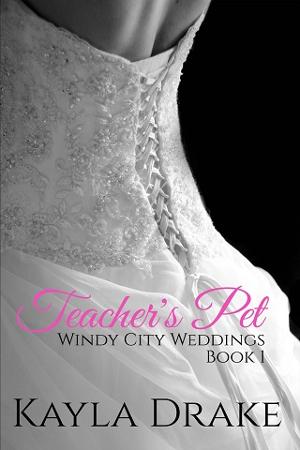 Memo to Miss Turner. Audrey Turner owns Miss Turner's School, a top-tier preschool in the posh Lincoln Park neighborhood. Her students are the children of some of Chicago's most successful doctors, lawyers, and entrepreneurs, and these parents expect nothing short of the best. No parent is more demanding than wealthy investment banker Dennis Delaney. Every day, Audrey receives a morning memo from him containing precise instructions for his son Cole's care.
No detail is too insignificant to escape this single father's notice. When Dennis finds himself coping with a short-term summer childcare issue, Audrey agrees to be his temporary nanny. It's a chance for a close view of their lifestyle, and if she can keep Dennis Delaney happy, then all the other parents should be content, too. It's only two weeks. Two weeks of daily contact with Chicago's most meticulous parent – and its most eligible bachelor. Two maddening weeks of rigorously high standards and sizzling sex appeal. Audrey can handle anything for two weeks, right?
File Name:teachers-pet-by-kayla-drake.epub
Original Title:Teacher's Pet
Creator:

Kayla Drake

Language:EN
Identifier:uuid:ad68116c-3da6-483b-a19d-596d24362629
Publisher:

Four-Ply Publishing

Date:2017-09-11
Subject:Contemporary romance,millionaire billionaire,wedding,boss employee
File Size:321.799 KB
Table of Content
1. Title Page
2. Copyright Page
3. Books by Kayla Drake
4. About Kayla Drake
5. Want More? Get More!
6. About This Book
7. Chapter One
8. Chapter Two
9. Chapter Three
10. Chapter Four
11. Chapter Five
12. Chapter Six
13. Chapter Seven
14. Chapter Eight
15. Chapter Nine
16. Chapter Ten
17. Chapter Eleven
18. Chapter Twelve
19. Chapter Thirteen
20. Chapter Fourteen
21. Chapter Fifteen
22. Chapter Sixteen
23. Chapter Seventeen
24. Chapter Eighteen
25. Chapter Nineteen
26. Chapter Twenty
27. Chapter Twenty-One
28. Chapter Twenty-Two
29. Chapter Twenty-Three
30. Chapter Twenty-Four
31. Chapter Twenty-Five
32. Chapter Twenty-Six
33. Chapter Twenty-Seven
34. Chapter Twenty-Eight
35. Chapter Twenty-Nine
36. Chapter Thirty
37. Chapter Thirty-One
38. Chapter Thirty-Two
39. Chapter Thirty-Three
40. Chapter Thirty-Four
41. Chapter Thirty-Five
42. Chapter Thirty-Six
43. Chapter Thirty-Seven
44. Chapter Thirty-Eight
45. Chapter Thirty-Nine
46. Chapter Forty
47. Chapter Forty-One
48. Chapter Forty-Two
49. Chapter Forty-Three
50. Chapter Forty-Four
51. Chapter Forty-Five
52. Books by Kayla Drake
53. Windy City Weddings Book One: Teacher's Pet
54. Windy City Weddings Book Two: Daring Sarah
55. About Kayla Drake
56. Want More? Get More!