Tarnished Hearts by J.C. Allen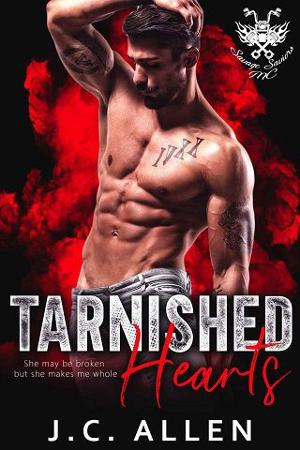 The Falcon has taken everything from me.
My mother.
My father.
My brother.
My wife.
My child.
But I have a reason to fight now.
I have a second chance at love.
Eve has given that to me.
I almost failed to protect her. I almost let her die.
I won't let that happen again. I won't let it happen to anyone on our side.
Make no mistake about it.
I will kill Falcon. I will have Eve forever.
Only his death and her love will fulfill me.
File Name:tarnished-hearts-by-j-c-allen.epub
Original Title:THARNISHED HEARTS
Creator:

Allen, J.C

Language:en
Identifier:1121658591
Date:2019-08-13
File Size:305.041 KB
Table of Content
1. Title Page
2. SYNOPSIS
3. Contents
4. Prologue
5. 1. Derek
6. 2. Eve
7. 3. Derek
8. 4. Eve
9. 5. Derek
10. 6. Eve
11. 7. Derek
12. 8. Eve
13. 9. Derek
14. 10. Eve
15. 11. Derek
16. 12. Eve
17. 13. Derek
18. 14. Eve
19. 15. Derek
20. 16. Eve
21. Epilogue