Take It Slow by Scarlett Brooks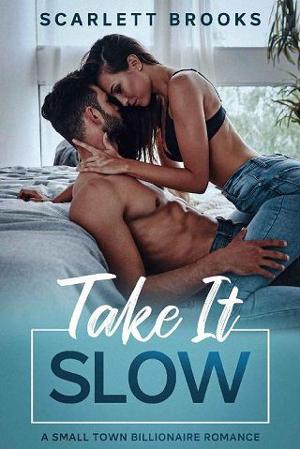 Levi Gunner is everything I'm not.
For starters he's a billionaire.
He's confident, strong, willing to do anything for his business.
Gunner Meats, a huge cattle operation.
Yuck. I don't even eat meat.
We have nothing in common.
Except one perfect dance, under the stars.
At a charity auction he bought me at.
I'll probably never see him again.
Until he asks me for a date.
One date, just like our one dance.
But what if I want more?
I don't know if Levi will put everything he's worked for aside for me.
And if he does,
Am I willing to put my heart on the line for him?
File Name:take-it-slow-by-scarlett-brooks.epub
Original Title:Take It Slow: A Small Town Billionaire Romance (Texas Billionaires Book 1)
Creator:

Scarlett Brooks

Language:en
Identifier:MOBI-ASIN:B086BMWRK5
Date:2020-03-23T16:00:00+00:00
File Size:127.523 KB
Table of Content
1. Title Page
2. Copyright
3. Contents
4. Untitled
5. 1. Emily
6. 2. Levi
7. 3. Emily
8. 4. Levi
9. 5. Emily
10. 6. Emily
11. 7. Levi
12. 8. Emily
13. 9. Emily
14. 10. Emily
15. 11. Levi
16. 12. Emily
17. 13. Levi