Tainted Heart by Ashe Winters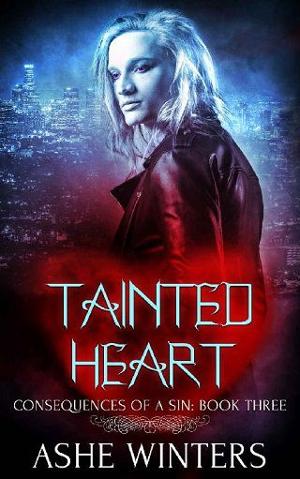 RYKER
I made a mistake. Avery's not talking to me, and it's all my fault. I shouldn't have given into my desire. I knew better. Before I have time to fix what I broke, a phone call with distressing news adds an extra layer of trouble to our current situation. I'm torn between saving a missing friend and keeping the fragile bond I have with Avery from breaking apart.
AVERY
Trust me, he says. How can I trust him when I can't even trust myself anymore? Ryker's worried our bond is a mess, a bond I never wanted. What he doesn't know is that our little experiment strengthened the soul tether magic. He's stuck with me, and I'm stuck with him. I'll deal with it. But what I'm not prepared for is the weird feeling I get when his attention is focused on finding his friend instead of on me. Is this jealousy?
File Name:tainted-heart-by-ashe-winters.epub
Original Title:Tainted Heart (Consequences of a Sin Book 3)
Creator:

Ashe Winters

Language:en
Identifier:MOBI-ASIN:B0818Z6JQW
Date:2020-01-23T16:00:00+00:00
File Size:291.657 KB
Table of Content
1. Title Page
2. Copyright
3. Contents
4. Author's Note
5. Prologue
6. 1. Ryker
7. 2. Avery
8. 3. Ryker
9. 4. Ryker
10. 5. Avery
11. 6. Avery
12. 7. Ryker
13. 8. Avery
14. 9. Ryker
15. 10. Avery
16. 11. Ryker
17. 12. Avery
18. 13. Avery
19. 14. Ryker
20. 15. Avery
21. 16. Ryker
22. 17. Avery
23. 18. Ryker
24. 19. Ryker
25. Epilogue
26. Follow Me
27. Also by Ashe Winters
28. About the Author