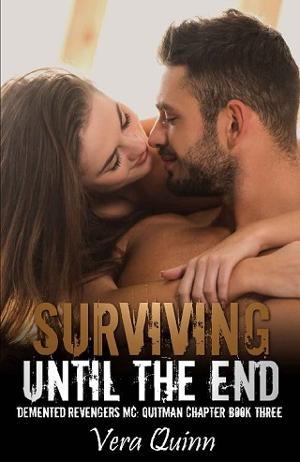 Brody
I am a Marine and a bounty hunter.
Because let's face it once a Marine, always a Marine.
My work and my parents are the constants in my life.
I am haunted by the bad decisions I have made in life.
My best friend became my adversary. Why?
We loved the same woman.
I loved a woman that was forbidden fruit.
A line in the sand I would not cross.
I married a good woman and then pushed her away because my heart was with someone else.
Decision after decision kept shutting doors and burning bridges.
Then I came face to face with a woman I can't walk away from, even if she does keep running from me.
Charity
Since the day the Hell Keeperz MC made my pop an offer he couldn't refuse, my life has become a nightmare.
I have witnessed horrors that no one should see.
Then my eyes met his and I felt a connection.
I knew in that minute, I would do anything to help Brody and Rebel escape from these people.
I can never quit running, even if I leave my heart behind.
Rebel
The Demented Revengers MC is at war.
We will do whatever it takes to dismantle the Hell Keeperz MC while keeping our family safe.
Hopefully, we will all be SURVING UNTIL THE END.
Book Details
File Namesurviving-until-the-end-by-vera-quinn.epub
Original TitleSurviving Until The End (Demented Revengers MC: Quitman Chapter Book 3)
Creator

Vera Quinn

Languageen
IdentifierMOBI-ASIN:B07CMPVQ8W
Date2018-05-14T16:00:00+00:00
File Size278.133 KB