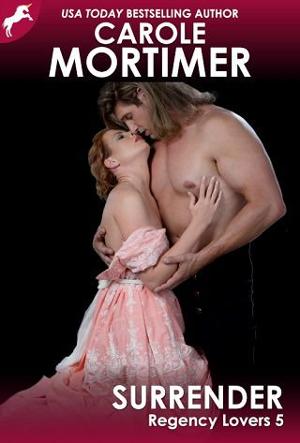 A month after being kidnapped, rescued, and returned to her family, eighteen-year-old Miss Clara Catchpole is still recovering from her terrifying ordeal. No longer the young and frivolous Miss she once was, there is now only one person Clara wishes to see and be with, and that is Lord Ezra Stone, her rescuer and a man twenty years her senior.
Unfortunately, for Clara, that gentleman's company proves to be as elusive as he is taciturn.
Ezra is aware of Miss Clara Catchpole in a way he has not been with any other woman, but his age and the events of his past make it impossible for him to pursue her, even when he knows he is hurting Clara with his seeming disinterest. She is young, he decides, and will recover from what can only be her infatuation with him.
He is able to maintain that distance between them until those events from his past once again intrude on the quiet life he has made for himself. Faced with the dilemma of ensuring Clara's safety or protecting his own heart, Ezra knows there is only one choice he can make. Keeping Clara safe is all that matters to him. Will these two mismatched people find happiness together or will Ezra's past tear them apart?
Book Details
File Namesurrender-by-carole-mortimer.epub
Original TitleSurrender (Regency Lovers 5)
Creator

Carole Mortimer

Languageen
Identifieruuid:0cc0c045-6a0c-4f0d-b14c-93ea191f5d1d
Publisher

Carole Mortimer

Date0101-01-01T00:00:00+00:00
File Size337.912 KB
Table of Content
1. Title Page
2. Copyright
3. Dedications
4. Chapter 1
5. Chapter 2
6. Chapter 3
7. Chapter 4
8. Chapter 5
9. Chapter 6
10. Chapter 7
11. Chapter 8
12. Chapter 9
13. Chapter 10
14. Chapter 11
15. Chapter 12
16. Chapter 13
17. Mailing list/newsletter, Facebook, Twitter, website, contact Carole, leave a review on ebook site
18. About The Author
19. Other books by Carole Mortimer