Storm Surge by Pandora Pine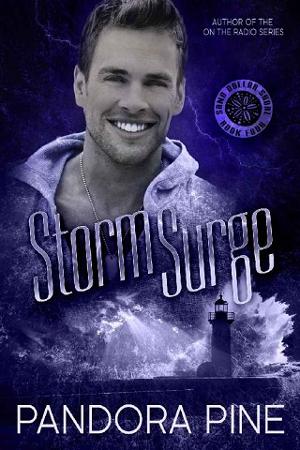 Griffin Fox, owner of Sand Dollar Shoal, feels like he can finally relax now that his hotel's debut season is successfully in the books. What he doesn't realize is that he has a tiny problem to deal with in the form of a magazine writer he's fallen hopelessly in love with, who won't give him the time of day.
Napoleon "Leo" LeClerc has spent the at summer Sand Dollar Shoal doing research for a magazine article he's writing on the sea captain's house which has been turned into Sand Dollar Shoal. What Griffin doesn't realize is that Leo has strict rules about romance, and miles of barbed wire guarding his heart.
After Griff and Leo discover an old sea chest in the attic and entertain a visit from the ghost of its original owner, they discover hidden secrets about each other as well as the long-dead captain who built the house. With a little time and patience, Griff manages to break down some of Leo's walls and the two men give in to the passion that has been building between them.
When an October hurricane threatens not only their friends' wedding but the hotel as well, will Leo and Griffin's love be strong enough to survive the storm surge?
File Name:storm-surge-by-pandora-pine.epub
Original Title:Storm Surge (Sand Dollar Shoal Book 4)
Creator:

Pandora Pine

Language:en
Identifier:MOBI-ASIN:B0746LM2VZ
Date:2017-10-02T16:00:00+00:00
File Size:127.225 KB