Soul Deep by Kimberly Forrest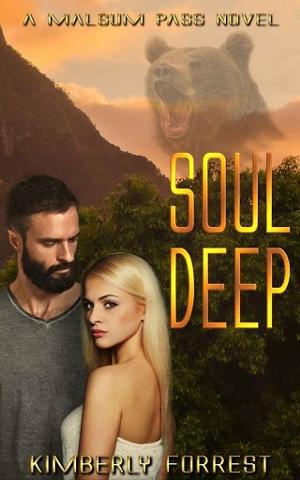 Is Malsum Pass harboring a killer?
Having survived an abusive marriage and escaped the vengeance of her pride for the death of her mate, feline shifter Lillian Oremun has rebuilt her life with a new identity in the shifter town of Malsum Pass. She owes the wolf pack her very existence, so when Lily becomes the prime suspect in a murder investigation and subjects her beloved town to police scrutiny, she will do anything to clear her name – even team up with an annoying bear shifter who stirs up desires she'd never thought she'd feel.
Bear shifter, Christian Black chose to remain in Malsum Pass after a brief visit in order to get sober and reclaim his life. Living in close proximity to Lillian Oremun, a beautiful but prickly feline, was just a bonus. Determined to win her for himself, he quickly discovers his usual lines won't work with this female. He would definitely need to up his game… Maybe even take on a killer.
Book Details
File Namesoul-deep-by-kimberly-forrest.epub
Original TitleSoul Deep : A Malsum Pass Novel
Creator

Kimberly Forrest

Languageen
IdentifierMOBI-ASIN:B07F1HFF3J
Date2018-06-28T16:00:00+00:00
File Size210.768 KB
Table of Content
1. Also by Kimberly Forrest
2. Chapter One
3. Chapter Two
4. Chapter Three
5. Chapter Four
6. Chapter Five
7. Chapter Six
8. Chapter Seven
9. Chapter Eight
10. Chapter Nine
11. Chapter Ten
12. Chapter Eleven
13. Chapter Twelve
14. Chapter Thirteen
15. Chapter Fourteen
16. Chapter Fifteen
17. Chapter Sixteen
18. Chapter Seventeen
19. Chapter Eighteen
20. Chapter Nineteen
21. Chapter Twenty
22. Chapter Twenty-One
23. Chapter Twenty-Two
24. Chapter Twenty-Three
25. Chapter Twenty-Four
26. Chapter Twenty-Five
27. Chapter Twenty-Six
28. Chapter Twenty-Seven
29. Chapter Twenty-Eight
30. Chapter Twenty-Nine
31. Chapter Thirty
32. Chapter Thirty-One
33. About The Author