Silence by Jaye Cox
no ratings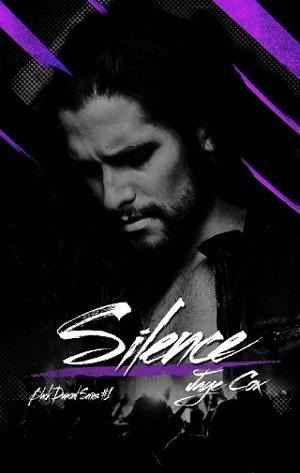 Eddie Diamond had it all – lead guitarist for Black Diamond, a life many would be jealous of. Music used to be his everything, but after a devastating loss his life spirals out of control. He carries a guilt that consumes him, and tries to mask it with women and drugs. On a path of self-destruction, he's hit rock bottom and is at risk of losing it all. Can he accept help before it's too late?
One broken promise. One loss so deep. One regret so unforgivable.
Callie Dean knows how rock bottom feels, knew it all too well, having lost everything. When she accepted a job offer to help the famous rocker, she never expected how hard it would be to even look at him. Everything she's fought so hard to stay away from is staring her right in the face, being around him reminds her of all the demons of her past.
One bullet. One letter. One day never to be forgotten.
If they both let their walls down, will that one brief moment be enough for them to start to trust and realise they need each other in order to begin healing?
A journey of Love, Loss, and Self-forgiveness.
File Name:silence-by-jaye-cox.epub
Original Title:Silence
Creator:

Jaye Cox

Language:en
Identifier:MOBI-ASIN:B071GV6C2N
Date:2017-06-29T16:00:00+00:00
File Size:1.700 MB
Table of Content
1. Prologue
2. Chapter One
3. Chapter Two
4. Chapter Three
5. Chapter Four
6. Chapter Five.
7. Chapter Six
8. Chapter Seven
9. Chapter Eight
10. Chapter Nine
11. Chapter Ten
12. Chapter Eleven
13. Chapter Twelve
14. Chapter Thirteen
15. Chapter Fourteen
16. Chapter Fifteen
17. Chapter Sixteen
18. Chapter Seventeen
19. Chapter Eighteen
20. Chapter Nineteen
21. Chapter Twenty
22. Chapter Twenty-One
23. Chapter Twenty-Two
24. Chapter Twenty-Three
25. Chapter Twenty-Four
26. Chapter Twenty-Five
27. Chapter Twenty-Six
28. Chapter Twenty-Seven
29. Chapter Twenty-Eight
30. Chapter Twenty-Nine
31. Chapter Thirty
32. Chapter Thirty-One