Savage Saviors Series by J.C. Allen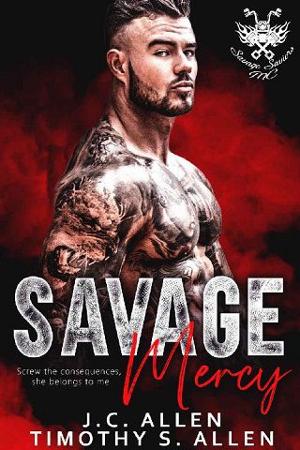 I'm the president of the Savage Saviors MC and they have no idea of the monster they've created.
I want them destroyed. The Black Falcons MC.
All of them.
The monster inside me will not agree for anything less.
I'm going to destroy them for what they did to me.
Vengeance is the only thing I've lived for.
Until I experience something new for the first time… desire.
Desire so strong that makes me think twice about my worthless life.
For a woman.
One look at her was all I needed to protect her from them.
They'll never touch her again.
They'll never run their hands down her gorgeous curve.
They'll never hear her beg.
I vowed to live and die for my MC.
But what happens when my desires for her spark a war?
Screw the consequence. She belongs to me.
This boxset is the complete Savage Saviors Motorcycle Club collection and it contains the following books.
Book One: Savage Mercy
Book Two: Reckless Carnage
Book Three: Broken Scars
Book Four: Hard Sacrifice
Book Five: Sacred Grip
Book Six: Lethal Lust
File Name:savage-saviors-series-by-j-c-allen.epub
Original Title:Savage Saviors: The Complete Boxset
Creator:

Allen, J.C.

Language:en
Identifier:3365029178
Date:2019-02-22
File Size:1.195 MB
Table of Content
1. SAVAGE SAVIORS
2. Title Page
3. Copyright
4. Dedication
5. Contents
6. I. BOOK 1

Prologue
1. Derek
2. Eve
3. Derek
4. Eve
5. Derek
6. Eve
7. Derek
8. Eve
9. Derek
10. Eve
11. Derek
12. Eve
13. Derek
14. Eve
15. Derek
16. Eve
Epilogue
Part I
Prologue
1. Derek
2. Eve
3. Derek
4. Eve
5. Derek
6. Eve
7. Derek
8. Eve
9. Derek
10. Eve
11. Derek
12. Eve
13. Derek
14. Eve
Epilogue

7. II. BOOK 2

Prologue
17. Derek
18. Eve
19. Derek
20. Eve
21. Derek
22. Eve
23. Derek
24. Eve
25. Derek
26. Eve
27. Derek
28. Eve
29. Derek
30. Eve
Epilogue
Part II
Prologue
15. Derek
16. Eve
17. Derek
18. Eve
19. Derek
20. Eve
21. Derek
22. Eve
23. Derek
24. Eve
25. Derek
26. Eve
27. Derek
28. Eve
29. Derek
Epilogue, Pt. 1
Epilogue, Pt. 2
Part I
Prologue
1. Derek
2. Eve
3. Derek
4. Eve
5. Derek
6. Eve
7. Derek
8. Eve
9. Derek
10. Eve
11. Derek
12. Eve
13. Derek
14. Eve
Epilogue, Pt. 1
Epilogue, Pt. 2
Part I
Prologue
1. Derek
2. Eve
3. Derek
4. Eve
5. Derek
6. Eve
7. Derek
8. Eve
9. Derek
10. Eve
11. Derek
12. Eve
13. Derek
14. Eve
15. Derek
16. Eve
Epilogue

8. Also by J.C. Allen
9. 1. Jaxson