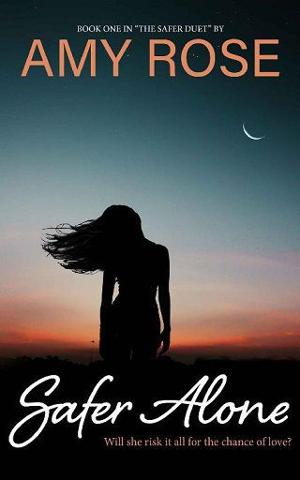 When Angela finally escapes the clutches of her abusive ex partner and flees to a new town, she tries to start her life afresh.
Just as everything appears to be on track she meets the mysterious Elliot, a millionaire from her home town who threatens to change everything she has convinced herself, who somehow, opens her closed off heart.
Angela is faced with a decision, allow her feelings to continue to grow, or, push them and Elliot to the side.
Safety is her top concern, and for four years she has told herself one thing, there is only one way to protect herself, she is Safer Alone.
File Name:safer-alone-by-amy-rose.epub
Original Title:Safer Alone (The Safer Duet Book 1)
Creator:

Amy Rose

Language:en
Identifier:MOBI-ASIN:B083GZS9ZT
Publisher:

Amy Rose

Date:2020-01-18T16:00:00+00:00
Subject:Fiction
File Size:307.510 KB
Table of Content
1. Table of Contents
2. Title Page
3. Copyright
4. ~Dedication ~
5. ~ Prologue ~
6. ~ Chapter One ~
7. ~ Chapter Two ~
8. ~ Chapter Three ~
9. ~ Chapter Four ~
10. ~ Chapter Five ~
11. ~ Chapter Six ~
12. ~ Chapter Seven ~
13. ~ Chapter Eight ~
14. ~ Chapter Nine ~
15. ~ Chapter Ten ~
16. ~ Chapter Eleven ~
17. ~ Chapter Twelve ~
18. ~ Chapter Thirteen ~
19. ~ Chapter Fourteen ~
20. ~ Chapter Fifteen ~
21. ~ Chapter Sixteen ~
22. ~ Chapter Seventeen ~
23. ~ Chapter Eighteen ~
24. ~ Chapter Nineteen ~
25. ~ Chapter Twenty ~
26. ~ Chapter Twenty-One ~
27. ~ Chapter Twenty-Two ~
28. ~ Chapter Twenty-Three ~
29. ~ Chapter Twenty- Four ~
30. ~ Chapter Twenty-Five ~
31. ~ Chapter Twenty-Six ~
32. ~ Chapter Twenty-Seven ~
33. ~ Chapter Twenty–Eight ~
34. ~ Chapter Twenty-Nine ~
35. ~ Chapter Thirty ~
36. ~ Acknowledgements ~
37. ~ About the Author ~
38. ~ Connect with Amy Rose ~