Ruthless Redemption by E.M. Gayle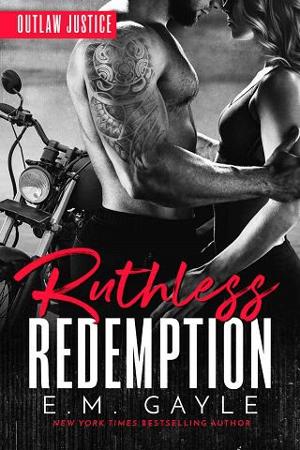 The road to redemption is NOT paved with good intentions.
It's savage, reckless and dirty AF.
When we connected on a lonely pier I expected a simple one night stand. I thought I had nothing else to give.
But a Princess needs more and it turned out I was happy to give it to her.
Until it turned deadly.
We both had secrets too explosive to contain. And with secrets come consequences…
Now all we have left is each other and one last chance to make a stand.
She calls me a badass without really knowing what kind of man I really am.
But she will.
Because I'll do anything to protect the woman I refuse to let go….
Book Details
File Nameruthless-redemption-by-e-m-gayle.epub
Original TitleRuthless Redemption
Creator

Gayle, E.M.

Languageen
Identifier3677394377
Publisher

Gypsy Ink Books

Date2019-06-14
File Size262.719 KB
Table of Content
1. Title Page
2. Copyright
3. Contents
4. Chapter 1
5. Chapter 2
6. Chapter 3
7. Chapter 4
8. Chapter 5
9. Chapter 6
10. Chapter 7
11. Chapter 8
12. Chapter 9
13. Chapter 10
14. Chapter 11
15. Chapter 12
16. Chapter 13
17. Chapter 14
18. Chapter 15
19. Chapter 16
20. Chapter 17
21. Chapter 18
22. Chapter 19
23. Chapter 20
24. Chapter 21
25. Epilogue
26. The Favor Of A Review
27. Also by E.M. Gayle
28. Books Writing As Eliza Gayle