Pretty Reckless by Jodi Linton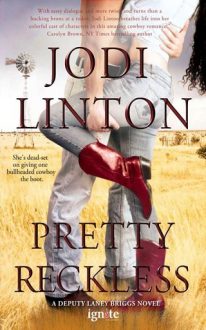 Welcome to Pistol Rock, Texas where everyone knows secrets last about as long as the sporadic west Texas rain showers.
Laney Briggs has long been considered reckless by the denizens of her hometown, but she's finally turned it all around—she's happily engaged to the local veterinarian and she's become a Pistol Rock deputy sheriff. Everything's fine and dandy—until a dead body turns up and her ex, Texas Ranger Gunner Wilson, decides to stick his boots into the town's first murder case. Of course, the troublesome cowboy's rugged good looks and T-shirt-straining muscles are already leaving Laney knee-deep in hot water, but she'll be damned if she lets Gunner trample all over her turf.
She's decided that, instead of conflict, she wants a contented, steady life with her vet—a life in which Gunner Wilson and his seemingly endless ability to undermine her resolve and her libido plays no part. Still, it's hard to keep her head as forbidden sparks ignite and suspicions arise between old rivals and old flames. And when the bodies start to pile up, Laney has to ask the lethal bad boy for a hand—and a truce in exchange for his help. But after uncovering the pack of lies surrounding not only her job but her heart… Having an ex-boyfriend as an ally might not be the best idea, but it's certainly the most reckless, and Laney has always been pretty reckless…
Book Details
File Namepretty-reckless-by-jodi-linton.epub
Original TitlePretty Reckless (Entangled Ignite)
Creator

Jodi Linton

Languageen
IdentifierMOBI-ASIN:B00IQOFSCW
Publisher

Entangled Publishing, LLC

Date2014-03-24T04:00:00+00:00
SubjectIgnite,Murder,suspence,sheriff,entangled publishing,romance series,small town,Jodi Linton,Romance,texas
File Size335.746 KB
Table of Content
1. Chapter One
2. Chapter Two
3. Chapter Three
4. Chapter Four
5. Chapter Five
6. Chapter Six
7. Chapter Seven
8. Chapter Eight
9. Chapter Nine
10. Chapter Ten
11. Chapter Eleven
12. Chapter Twelve
13. Chapter Thirteen
14. Chapter Fourteen
15. Chapter Fifteen
16. Chapter Sixteen
17. Chapter Seventeen
18. Chapter Eighteen
19. Acknowledgments
20. About the Author
21. Other Books by Jodi Linton