Playing Games by Candace Wondrak
no ratings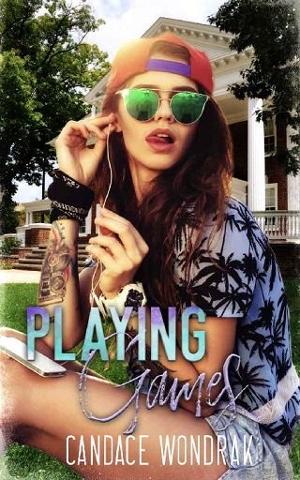 Wild child. Free spirit. Troublemaker. That's me.
I never thought I'd meet my match, but I was wrong. Levi Harlen is an unstoppable force just like me, and together we make something truly amazing. Hot, heated, passionate. He does things to me no other guy ever has. I love the way it feels, but I hate it, too.
Levi's a liar, you see, and I stepped into his web unknowingly.
This frat boy is about to find out that I'm not going to play his games, I'm going to play my own. He thinks he can hurt me by doing the sh*t he does? He's wrong. Nothing can hurt me, even as my life spirals out of control.
My name is Kelsey Yates, and I'm about to show this liar what it feels like to be rejected and beaten at his own game.
Game on.
File Name:playing-games-by-candace-wondrak.epub
Original Title:Playing Games: A College Bully Romance
Creator:

Candace Wondrak

Language:en
Identifier:MOBI-ASIN:B07ZTLDD6T
Date:2019-11-30T16:00:00+00:00
File Size:259.729 KB
Table of Content
1. Chapter One – Kelsey
2. Chapter Two – Kelsey
3. Chapter Three – Levi
4. Chapter Four – Kelsey
5. Chapter Five – Kelsey
6. Chapter Six – Levi
7. Chapter Seven – Kelsey
8. Chapter Eight – Kelsey
9. Chapter Nine – Kelsey
10. Chapter Ten – Kelsey
11. Chapter Eleven – Levi
12. Chapter Twelve – Kelsey
13. Chapter Thirteen – Levi
14. Chapter Fourteen – Kelsey
15. Chapter Fifteen – Levi
16. Chapter Sixteen – Kelsey
17. Chapter Seventeen – Levi
18. Chapter Eighteen – Kelsey
19. Chapter Nineteen – Levi
20. Chapter Twenty – Kelsey
21. Chapter Twenty-One – Kelsey
22. Chapter Twenty-Two – Levi
23. Chapter Twenty-Three – Kelsey
24. Chapter Twenty-Four – Levi
25. Chapter Twenty-Five – Kelsey
26. Chapter Twenty-Six – Levi
27. Chapter Twenty-Seven – Kelsey
28. Chapter Twenty-Eight – Kelsey
29. Chapter Twenty-Nine – Kelsey
30. Chapter Thirty – Kelsey