Passion for Players by Maggie Dallen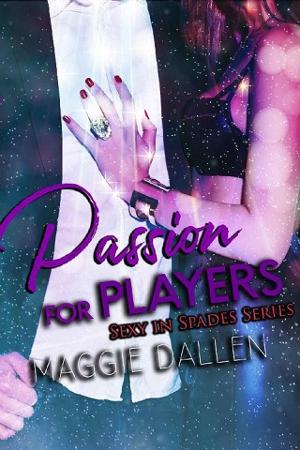 What happens when the player gets played?
Yvette Clark is just out for a good time. A much needed distraction after another short-lived romance bites the dust. The nerdy hottie in the suit and glasses will definitely do the trick–for one night, at least. Unfortunately fate has other plans. Turns out the mystery hottie is the same finance guy her best friend lined up to help her get that crucial grant. Now she has to get through one week working side by side with the earnest, disarmingly sweet nerd. No biggie. She can resist the inexplicable temptation to kiss away that serious frown and tousle that perfectly combed hair. She could definitely do that. After all, everyone knew she only fell for players…right?
Darren Pensky doesn't believe in love at first sight. At least, not until it happens to him. The super serious finance whiz is as shocked as anyone when he loses his heart to the vixen with purple hair at his boss's holiday party. The only problem is, the eccentric artist doesn't seem to feel the same. They might've enjoyed one night of wild sexual abandon, but sneaking out of his apartment in the middle of the night suggests that perhaps she's just not that into him. But then again, maybe she is and she just doesn't know it yet.
Book Details
File Namepassion-for-players-by-maggie-dallen.epub
Original TitlePassion for Players (Sexy in Spades Book 2)
Creator

Maggie Dallen

Languageen
IdentifierMOBI-ASIN:B078QG7L9N
Date2018-01-08T16:00:00+00:00
File Size209.244 KB
Table of Content
1. Chapter One
2. Chapter Two
3. Chapter Three
4. Chapter Four
5. Chapter Five
6. Chapter Six
7. Chapter Seven
8. Chapter Eight
9. Chapter Nine
10. Chapter Ten
11. Chapter Eleven
12. Chapter Twelve
13. Chapter Thirteen
14. Chapter Fourteen