Own to Obtain by Zoey Ellis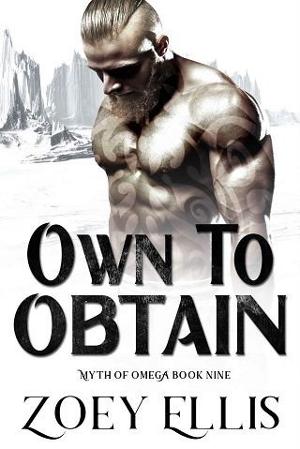 He will obtain her – at all costs
Kardos:
Burning with disbelief, Kardos' fury sets the entire known Lands alight.
He swears to reclaim what belongs to him, but discovers the true cost of trying to cage the beauty he loves to see fly.
Shaya:
Shaya seeks the life she had, but she is no longer the Omega she once was.
Battling her heartache, she soon learns that to find her strength, she must stake a claim of her own.
File Name:own-to-obtain-by-zoey-ellis.epub
Original Title:Own To Obtain (Myth of Omega Book 9)
Creator:

Zoey Ellis

Language:en
Identifier:MOBI-ASIN:B07QYP3F8B
Publisher:

Quill Ink Books

Date:2019-07-18T18:30:00+00:00
File Size:316.835 KB
Table of Content
1. Contents
2. Copyright
3. Own To Obtain
4. Southern Isles Map
5. CHAPTER ONE
6. CHAPTER TWO
7. CHAPTER THREE
8. CHAPTER FOUR
9. CHAPTER FIVE
10. CHAPTER SIX
11. CHAPTER SEVEN
12. CHAPTER EIGHT
13. CHAPTER NINE
14. CHAPTER TEN
15. CHAPTER ELEVEN
16. CHAPTER TWELVE
17. EPILOGUE
18. Author Note
19. Acknowledgements
20. About Zoey Ellis