Oracle's Luck by Alicia Fabel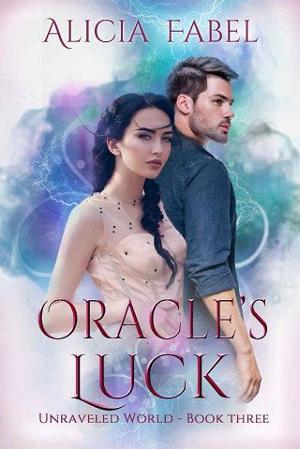 The world is falling apart.
Like, literally falling apart at the seams.
Magic has collided with Earth. Soon, the realms will find out and come running with their pitchforks. If the whole flipping world doesn't just crash and burn.
Vera has to prevent that.
And save a siphon baby.
And fix Kale–no way is she letting that man walk away from her.
But first, she'll have to stay out of a cyclops' stewpot.
She used to think that Lady Luck had it out for her. Turns out, someone else has been manipulating her life all along. Someone who knows everything that will ever happen. Vera will have to hunt down some creepy beings and make her own luck if she's going to alter the fate of the world.
But no worries. She's got this.
Maybe.
File Name:oracles-luck-by-alicia-fabel.epub
Original Title:Oracle's Luck: Unraveled World Book 3
Creator:

Alicia Fabel

Language:en
Identifier:MOBI-ASIN:B07L245RSB
Date:2019-01-11T00:00:00+00:00
File Size:275.843 KB
Table of Content
1. Title Page
2. Copyright
3. Contents
4. Stay in Touch
5. Dedication
6. Chapter 1
7. Chapter 2
8. Chapter 3
9. Chapter 4
10. Chapter 5
11. Chapter 6
12. Chapter 7
13. Chapter 8
14. Chapter 9
15. Chapter 10
16. Chapter 11
17. Chapter 12
18. Chapter 13
19. Chapter 14
20. Chapter 15
21. Chapter 16
22. Chapter 17
23. Chapter 18
24. Chapter 19
25. Chapter 20
26. Chapter 21
27. Chapter 22
28. Chapter 23
29. Also by Alicia Fabel
30. Acknowledgments
31. Author Notes