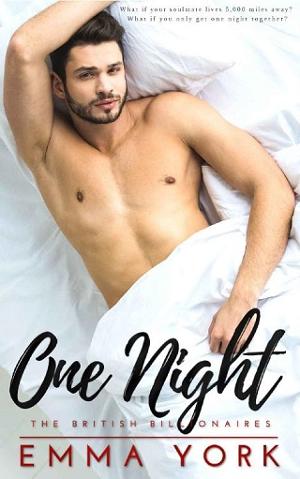 It was supposed to be simple.
All I have to do is fly across the Atlantic.
Stay at a castle in the middle of nowhere.
Get to know the owner.
Pay him so he'll let my bosses shoot their latest movie there.
Just one problem.
The owner is British, rich, and not interested in my offer.
But he is interested in something else.
Me.
He's just offered me a deal.
One night with him and I get the permission I need.
He's hot as hell and I'm flying home tomorrow.
No one will know about this but me and him.
What harm can it do to spend one night together?
Book Details
File Nameone-night-by-emma-york.epub
Original TitleOne Night: A Second Chance Romance
Creator

Emma York

Languageen
IdentifierMOBI-ASIN:B07BHK74JQ
Publisher

UNKNOWN

Date2018-03-13T16:00:00+00:00
File Size157.861 KB
Table of Content
1. EPILOGUE - ROBERT
2. ONE - TILLY
3. TWO - ROBERT
4. THREE - TILLY
5. FOUR - ROBERT
6. FIVE - TILLY
7. SIX - ROBERT
8. SEVEN - TILLY
9. EIGHT - ROBERT
10. NINE - TILLY
11. TEN - ROBERT
12. ELEVEN - TILLY
13. TWELVE - ROBERT
14. THIRTEEN - TILLY
15. FOURTEEN - ROBERT
16. FIFTEEN - TILLY
17. SIXTEEN - ROBERT
18. SEVENTEEN - TILLY
19. ALSO BY THE SAME AUTHOR
20. NEWSLETTER
21. ABOUT THE AUTHOR