Northern Heat by Jerry Cole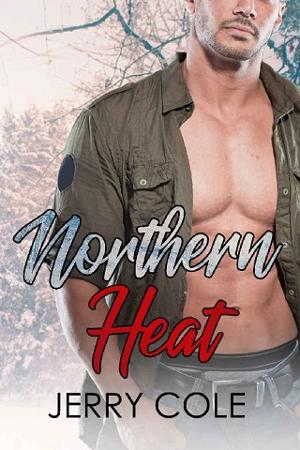 The Department of Preservation of Natural Resources in the State of Alaska could never find the ideal person to spend entire winters alone on one of their northern-most islands until they found Trevor. Trevor is a reclusive grouch with a shady past who is all too eager to spend his winters completely alone on the tundra. That is, until he comes across a mysterious man named Christian lying injured in the wilderness.
Christian doesn't remember how he had gotten on the hard to access island or, if he does, he's not telling. Trevor feels a certain magnetism toward the other man that conflicts with the sense of unease from sharing a desolate island and a small cabin with this total stranger with a mysterious past. Then again, Trevor's not one to talk when his past includes intrigue from the upper echelons of Manhattan, an obsessed former fiancée, and an attempted murder.
Will Trevor be able to learn more about this mystery man? Will he be able to overcome his growing attraction to him? Most of all, will he be able to overcome his dramatic past and learn to trust again?
Book Details
File Namenorthern-heat-by-jerry-cole.epub
Original TitleNorthern Heat
Creator

Jerry Cole

Languageen
IdentifierMOBI-ASIN:B07BJMTQXT
Date2018-03-16T16:00:00+00:00
File Size364.314 KB
Table of Content
1. Chapter One: The Year of Christian
2. Chapter Two: The Year of Veronica
3. Chapter Three: The Year of Christian
4. Chapter Four: The Year of Veronica
5. Chapter Five: The Year of Christian
6. Chapter Six: The Year of Veronica
7. Chapter Seven: The Year of Christian
8. Chapter Eight: The Year of Veronica
9. Chapter Nine: The Year of Christian
10. Chapter Ten: The Year of Veronica
11. Chapter Eleven: The Year of Christian
12. Chapter Twelve: The Year of Veronica
13. Chapter Thirteen: The Year of Christian
14. Chapter Fourteen: The Year of Veronica
15. Chapter Fifteen: The Year of Christian
16. Chapter Sixteen: The Year of Christian
17. Chapter Seventeen: The Year of Christian
18. Chapter Eighteen: The Year of Veronica
19. Chapter Nineteen: The Year of Christian
20. Chapter Twenty: The Year of Escaping Veronica
21. Chapter Twenty-One: The Year of Christian
22. Chapter Twenty-Two: The Year of Escaping Veronica
23. Chapter Twenty-Three: The Year of Christian
24. Chapter Twenty-Four: The Year of Trevor
25. Chapter Twenty-Five: The Year of Christian
26. Chapter Twenty-Six: The Year of Trevor
27. Chapter Twenty-Seven: The Year of Christian
28. Chapter Twenty-Eight: The Year of Trevor
29. Chapter Twenty-Nine: The Year of Christian
30. Chapter Thirty: The Year of Trevor
31. Chapter Thirty-One: The Year of Christian
32. Chapter Thirty-Two: The Year of Trevor
33. Chapter Thirty-Three: The Year of Christian
34. Chapter Thirty-Four: The Year of Trevor
35. Chapter Thirty-Five: The Year of Christian
36. Chapter Thirty-Six: The Year of Christian
37. Chapter Thirty-Seven: The Year of Christian
38. Chapter Thirty-Eight: The Year of Christian
39. Chapter Thirty-Nine: The Year of Christian
40. Chapter Forty: The Year of Christian
41. Chapter Forty-One: The Year of Veronica
42. Chapter Forty-Two: The Year of Christian