No One Else by Allie Winters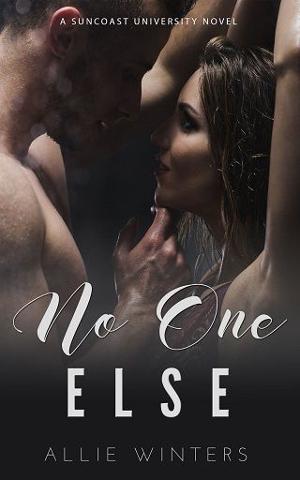 -Evan-
I messed up.
I admitted to the girl of my dreams I'm in love with her, only to have her run away. Why don't they ever warn you things like that happen?
Now that we're paired up for a class project, I have to figure out a way to keep things from being weird between us. I can't lose her again.
-Natalie-
We shared a kiss the night after I broke up with my boyfriend of three years. A heart-stopping, panty-melting kiss I still dream about. But I wasn't ready then for anything more.
Now that I am, he's unavailable. What will it take to get us both on the same page – and stay there?
File Name:no-one-else-by-allie-winters.epub
Original Title:No One Else (Suncoast University, #3)
Creator:

Winters, Allie

Language:en
Identifier:4069700176
Publisher:

Allie Winters

Date:2020-01-26
File Size:347.942 KB
Table of Content
1. Title Page
2. Copyright
3. 1
4. 2
5. 3
6. 4
7. 5
8. 6
9. 7
10. 8
11. 9
12. 10
13. 11
14. 12
15. 13
16. 14
17. 15
18. 16
19. 17
20. 18
21. 19
22. 20
23. 21
24. 22
25. 23
26. 24
27. 25
28. Epilogue
29. Also by Allie Winters
30. Acknowledgements
31. About the Author